"Death Warrant" featured one of the most annoying snitches I've had to suffer through. Seriously, Ray Diamond?!? The guy wanted a deal to prevent a murder that hadn't even happened yet.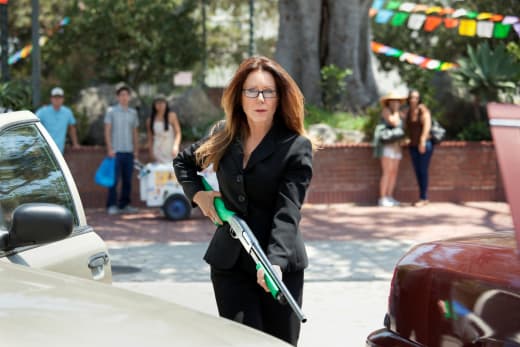 The good news? We got to see Raydor and Brenda conspiring together. It's about time the animosity between these two lessened because they really proved to be an entertaining duo.
Elsewhere, Brenda's attorney, Gavin, started the depositions of major crimes. Mark Pelligrino is like a master of disguise in the way he can insert himself into so many roles and never seem like the same man. His facial expressions alone made his interrogations enjoyable to watch. He summed up his experience with two words, too: "Have mercy." 
The way they filmed the scene when "The Kiss of Death" Flores was casing the joint where Fritz was talking with the DA set the scene up so well, I was cringing with worry about Fritz. Sure enough, bullets flew. At this point, as the series draws to a close, I figured nobody was safe. I cannot even imagine what would happen to Brenda if Fritz were killed or injured.
How bad ass was Raydor as she took aim and shot that guy in front of a crowd of people? The green band on the gun gave away that it wasn't a true shotgun, but still. Her stance and attitude had me screaming "frak yeah" as she shot him right between the eyes. The Major Crimes spin-off looks better after this episode, doesn't it?
One of the best moments for Brenda in recent history was watching Gavin see her in action. Until that point, he really had no first hand knowledge of her capabilities. Wasn't it just perfect that she mentioned Baylor while he was listening? That Taylor stuck up for her was icing on the cake. It was really all about how good Brenda was at her job and how cohesive the team has been during these trying days. 
It's about time. Watching Brenda get pummeled week after week was getting old. We needed to see them rally around her and prop her up, as she has done for each of them so many times in the past.
The final scene was a stunner. Provenza threw the gauntlet about there being a leak in the division, and pretty much everyone agreed with him. Even better? Gavin's wink to Brenda after he told everyone in the room to pass on a message to Team Baylor. They lose. I have no idea what he learned through the process of depositions, but I can't wait to find out!
Carissa Pavlica is the managing editor and a staff writer for TV Fanatic. Follow her on Twitter.