All these years, and I never knew Tao had a son.
The way The Closer introduced Kevin was wonderful; that he would call his dad at the possibility of a missing child at the park was such a small gesture, but it showed us more about their relationship via one scene than we knew in six years.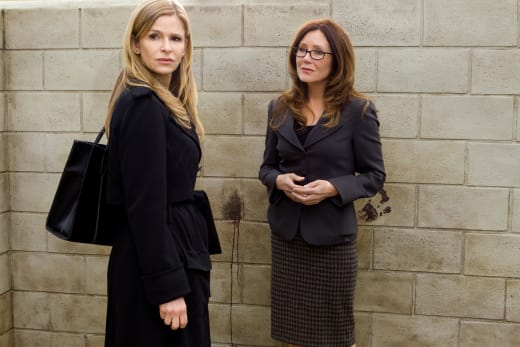 As the rest of the squad was tied up trying to find the missing boy, Captain Raydor was trying to get Brenda to understand just how much trouble she could be in should the case go to trial. A trial that appeared likely.
Visually, "Under Control" was stunning, in an absolutely shocking way. There was a shot from the helicopter searching for the boy that caught my attention. Finding the boy as a floater in the pool, eyes wide open, was stark and distressing. The image lasted as they pulled him from the pool, and it's been a long time since I have seen something so incredibly disturbing portrayed on television.
It was a simple scene, but excruciating to watch. The juxtaposition between last week's episode - full of humor - and the first 15 minutes of this one was one more indication of the magnificence that will be lost when The Closer goes off the air.
The anger of the child's parents immediately put them in a negative light. Witnessing the interrogation process through the eyes of Kevin was a touch of inspiration. He was dumbfounded that a parent could be questioned in the death of his own child, much like we are when faced with the same types of stories on the news every day.
A divorced couple leaving two adults to deal with dating in middle aged world, putting their son in the middle of their personal dispute. It must happen every day.
Even Dr. Morales was utterly defeated after the autopsy of the boy, Eric. Frighteningly, the kid was killed due to an overdose of drugs commonly given out for back injuries and pain. I happen to have them in my own bedside table. It was a sobering thought. 
Sobering, but nowhere near as grim as imagining the end of that little boy's life at the hands of his father. When faced with unsolved cases like Caylee Anthony, it sure seemed better at first blush to have a conclusion, no matter how grave the situation may have been. But upon further thought, I realized how authentic this case was, and was overcome with sadness.
In the end, Raydor had an opportunity to use jarring, but effective, tactics to get her point about the audit through to Brenda. The Closer uses that same technique to make the most of every episode. 
I'm giving another rating of five stars this week, and it's altogether different than my reasoning behind last week's perfect score. Just a brilliant episode all around.
Carissa Pavlica is the managing editor and a staff writer for TV Fanatic. Follow her on Twitter.