Will Moon Goddess go boom? That's the stage True Blood set this week, as "Burning Down the House" concluded with Bill and friends setting their sights on Marnie and her group of hostages.
Along the way, Tommy died, Lafayette got a haircut and Eric recovered his memory. Editor-in-Chief Matt Richenthal and staff writers Eric Hochberger and Jim Garner go over these developments in the latest edition of the True Blood Round Table...
~~~~~~~~~~~~~~~~~~~~~~~~~~~~~~
What was your favorite scene?
Matt: The opening was a case of fast-paced awesomeness. Bodies flew, blood splattered, Sookie generated some serious fairy magic and I actually gasped when we learned it kick-started Eric's memory. Too bad nothing else came from that.
Eric: As much as Matt wants to call it a lame excuse for a cliffhanger, I got all giddy too see our favorite vamps dressed in black, walking in slo mo. It's witch burning time!!
Jim: I have to go with Marcus moving in on Debbie. Just in case anyone felt Alcide was doing the wrong thing helping Sam avenge Tommy's death, this cleared it up.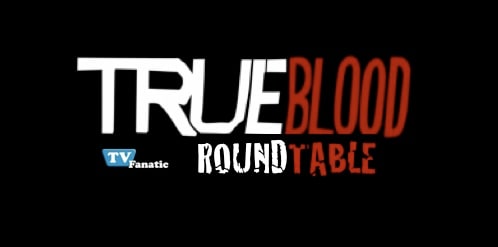 Is Andy really off V?
Matt: Yes. I think we all got off that show after the opening few episodes. It was incredibly boring for an alien invasion-based drama!
Eric: Is Vinnie Chace really off the coke? Is Tyrone Biggums really off the crack? Is Charlie Sheen really off the tiger blood? Is Eric really trying to answer this question with more questions? I think we all know the answer to these questions.
Jim: I would like to think so. If anyone is familiar with "rock bottom," Terry certainly would be it. Andy, I'm crossing my fingers that you have hit it and are ready to start recovery.
Pen a eulogy for Tommy.
Matt: Congratulations, Tommy. You accomplished something I didn't think was possible during your brief, albeit not nearly brief enough, time on True Blood: you made your brother interesting by comparison.
Eric: Goodbye, you waste of 10 True Blood minutes every week.  Thanks for taking out your parents before you went! But next time, can you shift into something hilarious before your death? I would have gone with a clown. That's a funny corpse.
Jim: Ding Dong! The shifter's dead. Which old shifter? The annoying shifter! Ding Dong! The annoying shifter is dead!
More intriguing development: the vengeance of Jessica, the motivations of Marnie or Eric regaining his memory?
Matt: Is intriguing a synonym for HOT? In that case.. Jessica. Seriously, Jason what are you thinking?!? Hoyt will get over it. You gotta get back under it.
Eric: Absolutely the motivations of Marnie. I may be alone among my friends in loving the witches this season, but I think they're the best villains this show has seen.  Now, making it Marnie the whole time? Can't wait for next week to go down!
Jim: Actually, I was more intrigued with "Who's working at Merlotte's?" Sam was camping with Luna, Tommy's dying, Sookie and Holly are captives and Arlene was at home. Does our favorite restaurant have a "Closed for Wiccan War" sign up or what?
Do you like Lafayette's new hairstyle?
Matt: I like it better on Alicia Keys.
Eric: I see. When I try and bring up Eric's crazy-shaved/spiky hair, I'm laughed out of the round table. But, sure Matt, go for the easy one. Lafayette. That dude changes dos so often I can't keep up with him. So, long answer short? Yes.
Jim: It has a kind of a G.I. Joe meets Queen Latifah look going. I like it better than some of the other looks he's had.