So, should we just call her Mantonia at this point? How about Arnie?
Either way, the most significant development to come out of  "Burning Down the House" was actually NOT the return of Eric's memory, but rather the reveal that Marnie is really driving the connection between herself and Antonia. It's not a possession, it's a "union."
And that is gonna create quite the dilemma for Bill over the final two episodes of season four.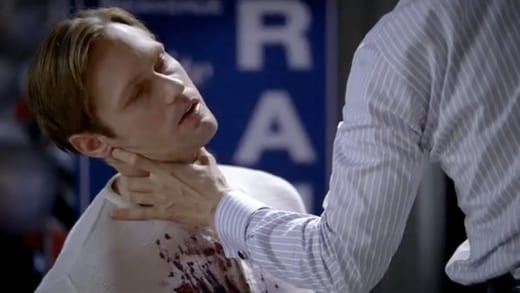 After all, this is war, right? Isn't that what Bill said in response to Tara's possible death if his plan to blow up Moon Goddess went forward? It's a perfectly reasonable point of view, but will it be one he can maintain when Sookie is included among the casualties?
It's easy to take a stance when you have nothing at stake. Let's see what the King decrees on behalf of his kind if it means killing his favorite fairy.
On that note, the scene with Bill, Jess, Pam and Eric going all
Reservoir Dogs
to close the episode was absolutely awesome, but it did continue a frustrating trend on T
rue Blood
: the show always concludes an hour mid-scene, which is a lazy way to create a cliffhanger.
Elsewhere...
Let's return to Eric for a moment. Considering the effort put in this season to get Eric and Sookie together, so much of which was based on what would happen when his memory returned, was anyone else disappointed at the lack of attention paid to that seemingly major event this week?
Sookie used her fairy powers (she still is a fairy, right? There are two episodes remaining. Did the writers devour some shiny apples and forget all about this storyline?) to reignite Eric's brain, he said he still loved her... and that's was all we got? I'm actually sick of this love triangle (seriously, Sookie loves them both, we get it; either go with the threeway relationship, kill someone off or make her single), so I was happy with a focus on Marnie and the danger she has brought to Bon Temps.
But is it safe to assume the Team Eric members out there were looking for more?
Nice moment between the Bellefleur cousins. It seemed a bit random, as it's hard to imagine many viewers all that invested in this relationship, but I'm all for background on Terry, especially if he'll become more prominent on season five with the addition of Scott Foley.
But why did Terry leave him in the woods? Not sure how that is meant to contribute to Andy's healing. Just seemed like a plot device that will come in handy at some point over the next two weeks.
RIP, Tommy. And, seriously, don't you dare shift into a living person at any point. Follow that white light. Go on now.
I didn't really think Jess could get any hotter. But angry, anti-human, "I don't care what happens, as long as I get to kill s**t" Jess? Hotter.
Belief in yourself, Tara, said Holly. Find better, less cheesy and cliche-filled dialogue, says TV Fanatic.
Jesus may have come across as noble in his invasion of Moon Goddess, but I know better. He just wanted to get as far away from Lafayette's new hairstyle as possible.
What did everyone else think?
Matt Richenthal is the Editor in Chief of TV Fanatic. Follow him on Twitter and on Google+.