Jenna didn't get the party or the car of her dreams on"My Super Bittersweet Sixteen." But at least she had her lucky socks.
Still, this Awkward episode was about Jenna finding her way just a little bit more instead of relying on others to tell her how she has to behave. It was nice to watch Jenna begin to realize that a lot of her self worth has to come from herself, it wasn't something that could be determined by a letter, or Sadie, or anyone else.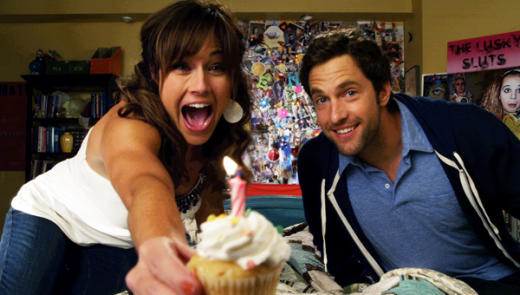 It was too bad she didn't own it sooner because her birthday might have been a little better, but then Valerie probably wouldn't have had her birthday rap for Jenna. And who would have wanted to miss that train wreck?
One of the reasons
Awkward
works so well is because it's far more mature and poignant than it initially seems. Because of that, it sometimes feels weird that some teenage themes come along for the ride in an episode. I wasn't expecting Tamara to give Jenna the cold shoulder for the entire episode. replacing her with a new best friend from band so quickly. Of course, there was some jealousy and hurt at play, but part of that didn't feel like something Tamara would do to Jenna.
Matty was finally able to make a commitment this week. I can't help but wonder if part of that phobia he was (or is) dealing with is partly due to his brother. His sibling had an enviable life back in high school and now all he has to look forward to is stumbling home drunk.
Finally, I loved symmetry of Matty visiting Jenna by her backdoor just like when she needed a hero, but this time the two of them had the added bonus of knowing what they wanted: something more.
Other thoughts:
I, too, would probably fail my driver's license test if the proctor had metal claws for hands.
I like that Lacey's reason for putting a mirror on the roof above a bed is to apply makeup.
I really missed my Tamara one-liners; the two of them need to make up soon.