The second season of Body of Proof kicked off with a not so subtle homage to Dana Delany's past on Desperate Housewives. Indeed, "Love Thy Neighbor" pushed Megan into the middle of a cull de sac community full of swinging couples, financial scams, and suburban drug labs.
It was almost as interesting as seeing Kate, looking very comfortable leaving Megan's former home, kissing Megan's ex-husband and telling her daughter to have a good day at school. All in front of Megan. Ugh. What a way to start your day.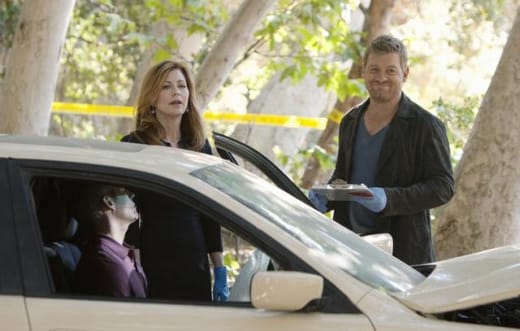 I have to say I understood why Kate was so ticked at Kate about Lacey. Kate could have tried harder to get in touch with Megan and should have specified in the message that this was about her daughter. No, I don't think Kate is really the bad guy here. There isn't a bad guy in this.  Just a very uncomfortable situation for all involved.
Other than the rift between Kate and Megan, I loved the camaraderie between the entire crew. Still wrapping my head around Curtis making
Star Wars
jokes about the sex toys and Ethan's response of:
I don't think we saw the same Star Wars. | permalink
I don't think I want to know what version Curtis saw, either. And how about Curtis' take on the Megan / Kate feud:
I watch telenovela. You're not sticking me in the middle. This story has a tragic end with no survivors. | permalink
So funny. 
But honestly I'm kind of disappointed about the feud between Kate and Megan. Their relationship has never been easy, but these are two smart women who are very good at their jobs. I hate that some guy, and a guy I don't think is worthy of either of them, is what's causing such drama.
Elsewhere, did you pick Bud as a guy who spends $7 on a cup of coffee? I wouldn't have guessed that.
I can't get enough of the scenes between Bud and Megan. She needs someone like Bud who can poke at her and get under her skin. They've got a great working partnership of sorts and underneath the humor and sarcasm lies enough caring to keep it interesting.
It almost feels like Peter took a back seat in this episode. I'm happy he continues to notice Megan's parasthesia flare ups and they have some nice banter concerning Peter's witness/date, but I hope we get to see more of Peter in coming weeks.
Finally, I'm thrilled that Megan and Lacey seem to be on better terms. Nothing is perfect, but Megan's making the effort and Lacey's opening up more. It led to a nice mother / daughter moment and that's all you can ask for.

Welcome back Body of Proof. I didn't realize how much I missed you.
C. Orlando is a TV Fanatic Staff Writer. Follow her on Twitter.