This eighth season was billed as Curb Your Enthusiasm coming to New York.
The show worked Larry leaving for NYC in so hilariously that I overlooked the fact that it took half the season to get him here. And while I was ready to criticize the season for not having an overarching theme to the 10-episode run, "Larry vs. Michael J. Fox" brought the New York era to an end in such a funny and poetic manner that I'm ready to forgive the uneven season.
Back in "The Vow of Silence," Larry broke down and went to New York because he kept using it as an excuse to get out of a charity event. It was such a fitting ending, therefore, to have to do the same thing in order to get out of a Michael J. Fox's charity event in New York. Only in typical Curb fashion, they threw a perfect curve ball in not sending LD back to L.A., but to Paris, where Leon bought himself a chalupa!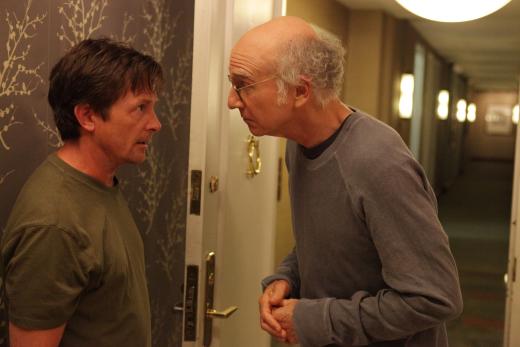 And that was the thing about "Larry vs. Michael J. Fox," not only was it constructed beautifully as an episode and as an ender to the season, but it was ridiculously hilarious along the way. I noted more funny moments, and compiled more quips for our Curb Your Enthusiasm quotes page, than I did for any other episode this season.
The scene in the park would have made the episode a winner all on its own. Between Larry buying Greg a replacement gift even though the flamboyant seven-year old obviously loved his sewing machine, the kid giving Susie a hand-sewn pillow sham with a swastika on it, and Jeff taking a bullet for Susie, the five-minute span made for multiple laugh out loud moments, as well as a number of times to acknowledge the cleverness of it all.
This finale gave us the second straight episode of Hitler's mustache, the elevator blow up, Leon's entire pep talk to LD about taking on Fox, Larry claiming Mr. Parkinson would be appalled at Fox's behavior, and last but certainly not least, Fox thinking Larry was giving him the violin sign for waxing on about his disease.
In fact, every confrontation between Larry and Michael was fantastic. I especially loved not knowing if Fox was actually pissed or if it was indeed Parkinson's. After watching his work here, I'm even more upset that he didn't win for Guest Actor in a Drama Series at this weekend's Creative Arts Emmys.
Now remember to always say "poor bastard" every time Jeff and Susie leave a room, and then tell us how you would have dealt with Larry's major predicaments this week:
The Background Music
LD's Stance:  Larry thought that everyone in the restaurant should be quiet while his date was playing the background piano. After she finished a set, he led the entire place in a round of applause.
My Perspective: I don't think this was his actual stance, because he was obviously booty blinded by the lovely Ms. Gasteyer. But I couldn't disagree with LD more here. It's background piano at a place where people are there to have conversation. The music is for the ambiance. And while I don't mind giving the musician a pleasant "nice job," a rousing clap is not necessary.
The Gay Gift
LD's Stance:  If a young child acts as flamboyantly as Greg, and notes that he loves Project Runway, then you can absolutely give him a sewing machine as a gift.
My Perspective: I'm with Larry on this one. The kid loved the present, and it was obvious that he would, so why not give it to him? Giving a boy a sewing machine isn't going to make him gay... not that there's anything wrong with that!
Now getting back to my original critique that there wasn't a flow to the season as a whole, the problem is that so many of the best Curb seasons have had that in spades. Most notably, season four had the running arc of Larry preparing to perform in Mel Brooks's The Producers, and season seven featured LD finally doing the Seinfeld reunion while attempting to win Cheryl back.
It can be argued that this season's theme was New York City, but so many episodes had nothing to do with that fact. Having said that…there were a number of all-time great installment during this season's run, including "Larry vs. Michael J. Fox," "The Divorce," and "Palestinian Chicken."
As always, here are some of our favorite quotes from "Larry vs. Michael J. Fox."
Larry: He started a war. He didn't really care for Jews. He thought they were a bit much. | permalink
Larry: Did you shake that up on purpose?
Michael J Fox: Parkinson's. | permalink
Leon: Michael J. Fox bout to be Michael J. f**ked up in a minute. | permalink
Larry: As a cynic it kinda sickens me, but he'd take a bullet for her. | permalink
Larry: You're in Paris, got the best food in the world, you're eating a chalupa?
Leon: If I coulda put French toast in this motha f**ka I would. | permalink
Dan Forcella is a TV Fanatic Staff Writer. Follow him on Twitter.