Lyla and Opie got married on the fourth season premiere of Sons of Anarchy. But there's a certain aborted secret between the pair that will create major tension later this fall.
They'll "definitely be dealing with their relationship and their issues," Winter Ave Zoli told me over the phone, offering little more about how Lyla's abortion and Opie's hopes for another child will come to the forefront on a future episode.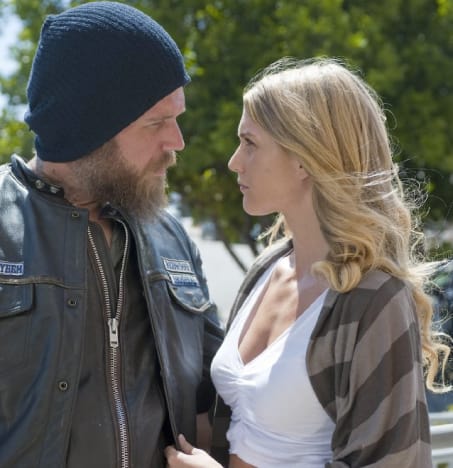 Zoli didn't think she'd even be on the show at this point. She was initially brought in as a guest star for two weeks, maximum. But the actress said Kurt Sutter approached her about a relationship with Opie that might lead to additional five episodes. That was many episode ago.
Now, she shares almost all of her scenes with Ryan Hurst, who Zoli describes as "a gentle soul and a very nice guy."
She also finds herself in a controversial storyline, even for Sons of Anarchy, which has never shied away from pushing the envelope way over any and all television cliffs.
"It was kind of risky they did the [abortion," Zoli says, admitting that she didn't think too much about it because the decision does align with her beliefs and, simply put: "It happens in real life."
Sons of Anarchy airs a new episode tomorrow night. Check out the official promo for "Una Venta" NOW.
Matt Richenthal is the Editor in Chief of TV Fanatic. Follow him on Twitter and on Google+.