Another Thursday night, another compelling episode of Suits.
On "Rules of the Game," secret from Harvey's past was revealed, the love triangle involving Mike came to a head and the relationship between Harvey and Louis became even more polarized.
Yes, the firm of Pearson & Hardman certainly had its hands full.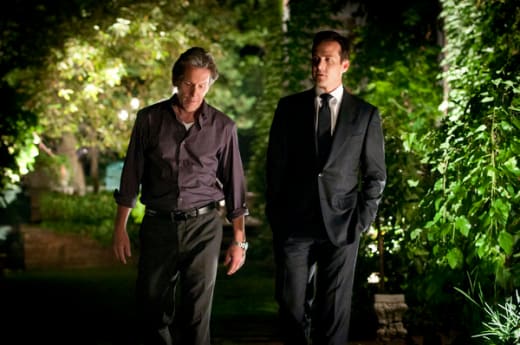 Who knew Harvey jumped the fence from being an Assistant District Attorney to a corporate lawyer?
It seems that Harvey knew one day the past would catch up with him. That's why he tactfully left that piece of information out of his bio. Seems like the perfect way to distance himself from the reality that could have cost him disbarment.
I found most interesting the distinction Cameron Dennis made when justifying the evidence he buried to get convictions. He told Harvey he didn't want to open the floodgate to allow guilty people to go free, even at the cost of some of those innocent people going to jail.
It almost made Harvey seem like the bad guy for wanting to have made sure the process was fair and just, which very well could have meant that some of those guilty people went free. For me, it turned the whole argument about what's right and wrong on its head. This is certainly something Harvey's going to face next week as he attempts to correct some of the wrongs that occurred during his time as an ADA.
Then, there was how readily Donna and Jessica stepped up in Harvey's defense. He's very loved, that much is for sure. I relished in the interaction between these two ladies. I'm fairly sure this is the first time we've seen these two conspiring, and it was fitting that the writers chose to bring them together for Harvey.
Similarly, Sarah Rafferty's role as Donna is a well-played performance that everyone should appreciate. Her talent is fully utilized each time she appears on-screen. I love her more every week. The writers are always developing their characters, even in the most basic or mundane moments.
When it comes right down to it, Harvey really is the guy who always tries to play by the rules, yet at every turn this week there was cheating.
Which leads me to the ever intensifying battle between Harvey and Louis. The tension between them is like a pressure cooker about to blow up. Here, that pressure cooker finally blew when Harvey unleashed his wrath. Clearly, it wasn't simply Louis' insistence on getting the upper hand that had Harvey so worked up. It was also a reaction to the cheating exercised by Cameron, his mentor, and the potential impact on his own career.
But it was so unexpected to have Harvey yelling like that; you could tell he was struggling internally. It demonstrated a certain level of vulnerability not typical of our confident corporate lawyer. His back was against the wall, and Harvey knew it.
Harvey might have maintained the upper hand in the negotiation had his mind not been elsewhere. That was a thought I couldn't shake as I watched the episode wind down and the estate mediation come to a close. He was understandably compromised due to the pending investigation in the DA's office.
I continue to wonder what it would take to effectively enact an amicable cease fire between these two. Then again, would Suits be the same show without the witty back and forth and competitive nature of the Harvey/Louis relationship?
Before taking too much time to ponder that hypothetical, there's the triangle between Mike, Jenny and Rachel to attend to. What right did Mike have to ask Rachel to go on a double date like that? It highlights the closeness of their relationship that Rachel agreed to it. I don't think I would do that for someone I didn't really care about.
Unfortunately, the double date only seemed to make things worse, in that Mike inadvertently revealed his feelings for Rachel to Jenny. Jenny was right, Mike can't have both, and he was cheating reality to think he could.
I am still on the fence as to who I like most for Mike. I think Jenny makes sense because they've known each other for a long time, but I can't ignore the chemistry he has with Rachel.
The most poignant thing Mike said when getting real with Rachel is that she was too late. He had tried everything he could, including pretending they were married to get a response from her as far as whether or not there were feelings. In a way, it might reveal that Mike is settling, even though Jenny is a great girl.
For such a loaded episode, I can only imagine what's in store for next week's season finale! Where did the summer go?
Do you think Harvey will successfully write the wrongs done during his time at the DA's office, or is it too late? Will we have to wait until season two to see how Rachel and Mike patch up their relationship?
C. Charles is a TV Fanatic Staff Writer. Follow her on Twitter.