Jane Lynch is on the stage, a bag of Oreos is on my coffee table, Jon Hamm is likely preparing his acceptance speech, and I'm excited to watch the 2011 Emmy Awards along with my fellow TV Fanatics.
Below, I'll be live-blogging whatever thoughts come into my head throughout the ceremony, while also highlighting the winners in every major category. Please join me in the Comments section, starting right... NOW!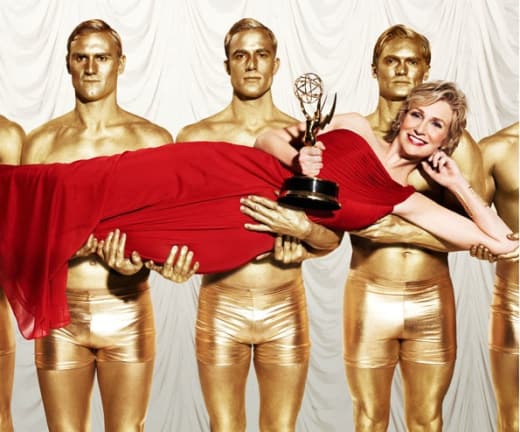 7:57 I have switched over to FOX for a little Red Carpet before the show starts and it is Jane Lynch in a tux.  It has begun!
8:01 What I wouldn't do to live in that gigantic tv building!
8:03 Is Jane Lynch making fun of Big Bang Theory for having a laugh track?
8:05 Roger Sterling trying to watch tv through his 1965 phone? Hilarious.
8:09 Jane Lynch attempted to make a joke about Betty White's age, but the audience was too prepared to cheer for her for the joke to land.  Oh well.
8:14 After hearing Fallon's pretend speech, I really want Late Night to win even more!  What could he do for an encore?
8:16 And the winner for Outstanding Supporting Actress in a Comedy is...Julie Bowen of Modern Family.  I didn't see this upset over Jane Lynch and Betty White, but her two submitted episodes were pretty great showcases for her.  She should thank Sofia Vergara.
8:19 And the winner for Outstanding Supporting Actor in a Comedy is...Ty Burrell of Modern Family.  The Dunphy family doing well so far tonight!  This wasn't a surprise as he had a great season.  Hard to imagine Mod Fam not taking home best series after this start huh?
8:20 @C. Orlando @Nick McHatton, TV Fanatic Staff is apparently not Team Emmytones.
8:27 This is a clever idea to edit Ricky Gervais's comments, but it's really not all that funny.
8:29 Modern Family wins again!  This time for Comedy Directing, as Michael Alan Spiller takes home the award for "Halloween."  
8:32 Wow, this isn't surprising, but wow!  Modern Family wins now for writing.  Steve Levitan and Jeffrey Richman go home with Outstanding Writing in a Comedy honors.
8:39 Carissa Pavlica: "They should mix categories up a bit so that one show doesn't dominate any time frame in the #emmys."  Completely agree.  This is a bit overwhelming.  It would also prevent me from snoozing during the Movie/Miniseries time frame.
8:42 Anyone who read my Emmy Preview or my reviews of The Office this year knows how upset I am that Steve Carrell didn't just win Outstanding Lead Actor in a Comedy.  On the other hand, Jim Parsons is very funny on Big Bang Theory.  That's all I can say right now.  I'm upset.
8:45 What is going on?  Did all the women plan this?  I first though Poehler was just being really ballsy.  Now I'm not sure. 
8:47 And the winner of best supporting performance in a summer comedy movie Outstanding Lead Actress in a Comedy goes to Melissa McCarthy of Mike and Molly.  She was a surprise nomination, so as a winner?  Crazy! 
8:50 @Leigh Raines yeah it was a little weird at first, but nice of the ladies to do something different up there.
8:52 I'm still a bit stunned at three of the four winners so far.  Parsons is a back-to-back winner now, but Carrell was a huge favorite for his last year on The Office.  Apparently the Academy really doesn't like that character.  And Laura Linney doesn't win for that Pilot of The Big C?!?
8:55 Jesse Pinkman and Creed Bratton: a match made in heaven!  This Office gag is working for me, but I'm an Office fan, so it might just be me.
9:02 And the winner for Outstanding Reality Competition is...The Amazing Race.  Back to the status quo for reality competition.  I would have liked to have seen Top Chef win again, but I'm okay with this.
9:05 The winner of Writing for a Variety Series is...(wait let's give props to these shows for the creative way of announcing their writers, especially SNL and Late Night for Timberlake and Puppies!)...and the winner is...Daily Show with Jon Stewart.
9:09 @Linda Frazzo I would much rather see Jimmy Fallon sweep the Variety awards.
9:13 Jack Sparrow!!!!!!!!!! Maybe my favorite song of the year.
9:14 Apparently Evan Rachel Wood loves The Lonely Island grinding on William H. Macy.  This is awesome!
9:16 I know most TV Fanatics are joining me in excitement to see Ian Somerhalder on the stage.
9:17 Don Roy King takes home Outstanding Directing in a Variety for Saturday Night Live and the "Justin Timberlake" episode.
9:19 In a surprise event, The Daily Show wins its ninth straight for Outstanding Variety Series.  Jimmy Fallon's expression was classic.
9:24 Time to take a breather right?  No?  The drama awards are right around the corner?  Buckle up kids, I assume we are in for a few more surprises before the night is over.
9:28 The Vampire Diaries getting some love on the Drama Reel!  Woo Woo!
9:30 Jason Katims take home Outstanding Writing in a Drama for Friday Night Lights and "Always."  This could be a good sign for the big Series Award at the end of the night.  Clear Eyes, Full Hearts, Can't Lose!
9:32 I am now one-for-five on predictions, as Margo Martindale takes home Outstanding Supporting Actress in a Drama.  She is sooooo happy!  This is so deserved.  What a performance she put forth.
9:37 @Nick McHatton @C. Orlando I couldn't agree with you more.  Watching her on stage in real life, and then thinking back to her performance this season on Justified, she is truly a fantastic actor.  Margo seems like the sweetest woman on Earth.  Mags was not that.
9:42 Was this the most obvious winner of the night? Martin Scorsese wins for Outstanding Directing in a Drama for the Pilot of Boardwalk Empire.  It would have loved to have seen the Game of Thrones Pilot win, but nobody was taking down Marty.
9:46 I couldn't be more excited right now!  Peter Dinklage wins for Outstanding Supporting Actor in a Drama!!!!  What a stud he is on Game of Thrones.  Can't wait for season two!
9:51 "A few of you I call my good friends," Dinklage said.  Apparently Walton Goggins is not one of them because Dinklage referred to him as "Walter."
9:54 An entire segment of the Emmys dedicated to Jersey Shore...ok.  Oh and none of it was funny.
9:55 Big mistake not having Bryan Cranston hand out the award for Lead Actor in a drama.  Shame.  It could have been a nice moment.
9:56 Apparently you CAN wear an ugly dress and win an Emmy.  Juliana Margulies wins for Outstanding Lead Actress in a Drama for The Good Wife.  Her and the work of the rest of the folks at the series have convinced me to start watching the show.  They do great things.
9:59 I have loved him throughout the run of Friday Night Lights, but his role was so small in the finale that I did not see Kyle Chandler winning for Outstanding Lead Actor in a Drama.  Another interesting sign for Best Drama...Clear Eyes, Full Hearts, Can't Lose!
10:03 Mad Men has been shut out so far, and has still never won an acting award.  That is not a good sign for its Best Drama chances.  If Jon Hamm didn't win for "The Suitcase" in a year that Bryan Cranston was not eligible, he most likely will never win for Mad Men.
10:10 Now we get to the awards I know nothing about. Sherlock was the only miniseries or movie I watched.  Downton Abbey and Julian Fellowes win for Outstanding Writing in a Movie/Miniseries.
10:13 And now the winner for Outstanding Supporting Actress in a Movie/Miniseries is...Dame Maggie Smith!  Peter Pan has never been so proud of his Wendy lady.
10:16 @Lesli You are very welcome!  We are excited to be here live-blogging the Emmy results for the fans.
10:21 The Kennedys taking home some Emmy gold. That was surprising.  Barry Pepper wins for Outstanding Lead Actor in a Movie/Miniseries.
10:22 Downton Abbey wins now for Directing in a Movie/Miniseries. Not looking good for Mildred Pierce fans.
10:26 That one hurts.  Leslie Nielsen you are missed by me every time I watch Wrongfully Accused, which is way too many times to admit here.
10:30 And we are now reminded that the guy we just watched in Spartacus has passed.  R.I.P. Andy Whitfield.
10:35 And the winner of Outstanding Supporting Actor in a Movie/Miniseries is...Guy Pearce for Mildred Pierce.
10:39 Kate Winslet wins for Outstanding Lead Actress in a Movie/Miniseries.  Why is she so excited/surprised?  She wins everything doesn't she?  Her name goes on a ballot and people check it off, because she's a fantastic actress.  Done and done.
10:47 And after winning writing and directing, Downton Abbey now wins for Outstanding Movie/Miniseries.  I should probably watch this for my own sake.
10:49 It doesn't win any acting awards, or writing and directing, but Mad Men wins for the fourth straight year for Outstanding Drama Series.  This is so anticlimactic, but at the same time I was really expecting to hear Friday Night Lights called after the way the night had gone.
10:50 If it's not the best directed, written, and none of the actors are worthy of awards, why is it the best series?  I guess everything can combine to make it the best show, but how does not a single actor win an Emmy in four seasons!  A shame.
10:57 And it now completes the sweep.  Modern Family wins for Outstanding Comedy Series for the second straight year.  Yawn.
11:00 And what a nice way to end the show.  Steve Levitan killed it with that joke at Ed O'Neill's expense.
11:02 Thanks for joining us tonight for the TV Fanatic Emmys Live Blog.  It was a blast!  Stick around for a handy list of all of tonight's winners...
Series
Drama Series - Mad Men
Comedy Series - Modern Family
Movie/Miniseries - Downton Abbey
Variety Series - The Daily Show
Reality Competition - The Amazing Race
Drama
Lead Actor Drama - Kyle Chandler (Friday Night Lights)
Lead Actress Drama - Juliana Margulies (The Good Wife)
Supporting Actor Drama - Peter Dinklage (Game of Thrones)
Supporting Actress Drama - Margo Martindale (Justified)
Writing Drama - Jason Katims (Friday Night Lights)
Directing Drama - Martin Scorsese (Boardwalk Empire)
Comedy
Lead Actor Comedy - Jim Parsons (Big Bang Theory)
Lead Actress Comedy - Melissa McCarthy (Mike and Molly)
Supporting Actor Comedy - Ty Burrell (Modern Family)
Supporting Actress Comedy - Julie Bowen (Modern Family)
Writing Comedy - Steve Levitan & Jeffrey Richman (Modern Family)
Directing Comedy - Michael Alan Spiller (Modern Family)
Movie/Miniseries
Lead Actor Movie/Miniseries - Barry Pepper (The Kennedys)
Lead Actress Movie/Miniseries - Kate Winslet (Mildred Pierce)
Supporting Actor Movie/Miniseries - Guy Pearce (Mildred Pierce)
Supporting Actress Movie/Miniseries - Maggie Smith (Downton Abbey) 
Writing Movie/Miniseries - Julian Fellowes (Downton Abbey)
Directing Movie/Miniseries - Brian Percival (Downton Abbey)
Variety
Writing Variety - The Daily Show 
Directing Variety - Don Roy King (Saturday Night Live) 
Dan Forcella is a TV Fanatic Staff Writer. Follow him on Twitter.