Reagan and Chris were quite the suburban stalkers as they monitored the new couple across the street in "Cool Neighbors."
Their neighborhood watch was full of funny moments, such as when Chris thought they were safely hidden behind the glare on the window. The show's writers definitely have a great grasp on the funny quirks of parenthood. Case in point: having to associate with couples you don't like in order to secure play dates for your children.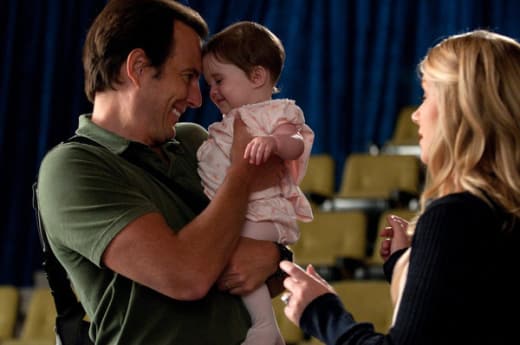 Christina Applegate and Will Arnett have good chemistry and continued to show it this week while updating their Facebook pages and reminiscing about their times at Daytona Beach. Chris' cringe factor, while intentionally scripted, was almost too high at times with lines like "Peace In the Middle East," but I did laugh when he called the neighbor "mate" and again when he excitedly fit into his Pre-Amy jeans.
Reagan delivered the line of the episode when she told Missy, "when you hit reply all it really does mean all." She also showed good balance with the spousal sarcasm, calling out herself for wearing maternity leggings while teasing Chris for his musical choices, which included Jamiroquai, The Mighty Mighty Bostones and Train.
Loved how they lumped Train in with the other two older acts. They are not "gangster" nor are they "so thug." And don't try to tell me they were being ironic. Either way, I was grinning ear to ear when the ringtone that gave Chris away at the end was fittingly their brutally over played "Hey Soul Sister."
Speaking of grinning ear to ear, Nick Cannon lit up the screen as he met Amy on the set of Ava's show. The timing of Calvin's entrance on the tail of Ava's line about Amy not being comfortable around "people of color" was great. I know Cannon "is everywhere" but babysitting at 11:30 on a weeknight? That scene where Reagan casually told Chris she'd call a sitter, like there's a stable of them on call twenty fours hours a day, was a gaping hole in what has been a pretty realistic parenting dynamic thus far.
Maya Rudolph continued to explore Ava, teetering between being a total caricature like Tracey Jordan and a comedic presence with occasional sincerity like the same show's Jack Donaghy.
On one of Up All Night's promos, I saw Cannon confess that the baby who plays Amy would cry, as if on cue, every time she was handed to Rudolph. The scene where Ava cuddled with a track suit-clad Amy though was adorable. I think it will take a few more episodes, but I believe Rudolph's talent can make this character shine. Until next time, keep watching and growing and visit our Up All Night quotes section for more!