"A Night on the Town" turned out to be one of funniest and most touchingly real Blue Bloods of the season so far.
Even though Danny Reagan can sometimes drive me crazy, I've always enjoyed the relationship between him and Linda. They act like a real married couple with kids and a house and a mortgage and stress. But these two love one another and though they can get on each other's last nerve, they never forget it.
That's why I felt for Linda. She's a cop's wife. She knows the demands of the job but every once in a while it would be nice to come first. Unfortunately, that wasn't going to happen, even for their planned romantic weekend.
Despite that, Linda wasn't so much angry as disappointed and she told Danny so. He even understood, but a young man died and he deserved justice. So romance would have to wait - but when the time came, they both did their best to make the most of it.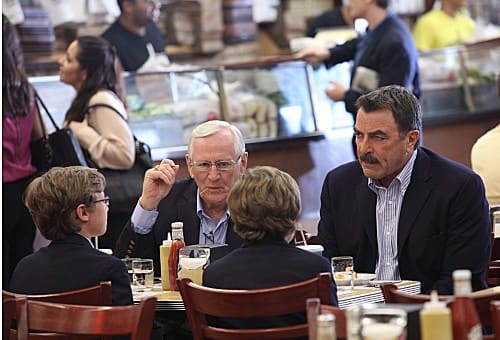 Back home, Frank and Henry were watching the boys. In what might be one of the funniest scenes of the entire series, grandpa and great-grandpa handed down life advice to Jack and Sean. Their sage instructions consisted of: don't put mayo on pastrami and what to make a girl for dinner (linguini with garlic and oil with salad and good bread).
Then, Frank gave several tips on everything from what to order at a restaurant:
You can order lobster at a steak house but never order steak at a lobster shack. | permalink
What being out on their own will feel like when they're older:
You won't be poor exactly but you'll be paying for everything that used to come free so you'll feel strapped. | permalink
And then, what to do when you can't pay your bills:
If a month comes and you can make rent or the car payment but not both, make the car payment because you can always sleep in your car but you can't drive your house. | permalink
Add this exchange to Henry almost taking the boys to see The Book of Mormon and I almost fell out of my chair. Erin wasn't kidding when she said they'd dodged a bullet. Linda would have killed them.
The lesser story of the night saw Jamie headed back undercover as he was invited to a crime family's family dinner. I loved how Noble Sanfino told Jamie "Don't want what you can't have," when he introduced him to his sister, Bianca. That was a pretty clear warning. Unfortunately, my guess is it's already too late.
Jamie was definitely attracted to her. I'd bet he ends up in a relationship with her before long. Whether that will be for the case or strictly personal is another matter.
We didn't get to see the Reagan's traditional Sunday dinner but we had so many other great scenes I couldn't say I missed it. The case of the week may have fallen a bit flat but the family drama more than made up for it.
C. Orlando is a TV Fanatic Staff Writer. Follow her on Twitter.