Ethan loses a patient on "Lazarus Man."
If he were a doctor in a hospital that would be a tragedy, but here at the morgue it means something different. When a man you think is dead gets up and walks off the table, calling it weird is an understatement.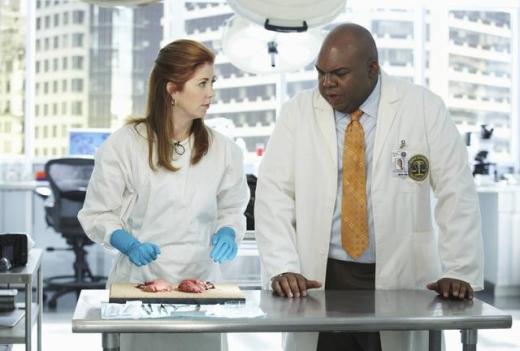 Curtis' reaction is my favorite. He's not upset with the new girl, Dani, for bringing back a live one. The paramedics are the ones who declared him dead but he makes sure she rechecks her bodies before she puts them in a bag from here on out and he makes her dress professionally. I love that bit of reality. This isn't high school. You have a job. Dress appropriately.
Ethan and the new girl make a cute couple. There's definitely potential here and I look forward to learning more about her, in small doses, and seeing more of them.
Bud's reaction to the dead man come to life is another favorite. He plays the tired, put upon detective so well. If the now-living dude dies during surgery, he'll be stuck with a murder investigation but no crime scene. In other words: his job will become ever harder.
Samantha's revelation about her brother seems a little out of left field to me. It is odd that she never mentioned it to her partner. Of course, we don't know how long these two have been partners, so it just may not have come up. I suppose it's not the easiest thing to slip into a conversation.
So... Peter's first great love isn't what it used to be. Time changes things. It's wonderful that Megan got to meet his family. She's obviously looking for more of a bond with Peter, even if that's just friendship for now. Do you see these two becoming more in the future? I think there's potential but it's a long ways off.
The conclusion of our murder story is a bit frightening. The chief of staff would rather let hundreds of children suffer and possibly die of cancer than risk her political career?!? Now that's got to lead to some seriously bad karma.
I do hope this episode sheds some light on being a marrow donor. It's easy to get tested and put on the registry and if you're a match you can save someone's life. You can find more information at www.bethematch.org.
C. Orlando is a TV Fanatic Staff Writer. Follow her on Twitter.