The first thing that struck me about "Second Chances" was that Megan Hunt was wearing appropriate shoes to a crime scene and not those ridiculous five-inch heels in the the middle of the woods. Thank goodness.
I know that the heels are meant to be fashionable but they look downright silly as she huddles over a corpse and can be a distraction to an otherwise entertaining show. I hope the new footwear is an ongoing trend.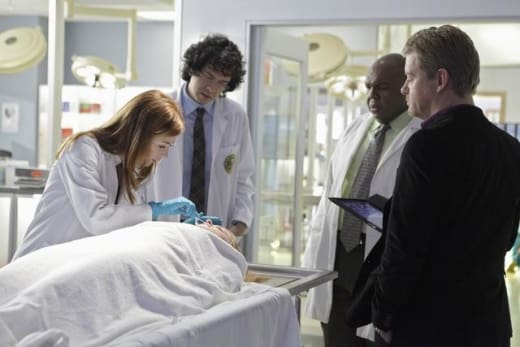 The Case:  I've only spent a minimal amount of time around horses but I still enjoyed this plot. Horses are beautiful and sometimes dangerous creatures. Accidents happen but this was not one of them. 
What other case could combine Ethan's Mr. Ed impressions, glitter, and horse poop? It had plenty of twists and turns, although I'll admit I pegged the boyfriend as the killer the moment I saw him. He had too much of that hard, preppy, entitled look that made me want to hate him. Okay, so maybe I just wanted him to be the killer and the writers unknowingly made me happy. Plus his last name was Savage. That was a dead giveaway.
Will, the horse dealer, was no prize either. I've never heard of fixing a horse's teeth to make them look younger but it didn't shock me. Horses are expensive animals and there's a con and a sucker born every minute. 
The Guest Star: Crystal Bowersox did a great job as Zoe. I wouldn't have guessed that this was the American Idol alum's first acting gig. She mixed enough vulnerability and hard edge to make me care but still make me wonder if Zoe murdered a woman.
The Cops: It was apparently Samantha's week off. Is that a budget thing? We only have her and Bud together in a certain amount of episodes and then they switch off?  But Bud was in rare form tonight and it was fun to see. He was wonderfully sarcastic in almost every scene, even with Megan's daughter Lacey.

My favorite was the glee in Bud's voice when he told Brynn's boyfriend and fellow competitor:
See, I didn't know that horseback riding was the only Olympic sport where men and women competed equally and she has been kicking your ass. | permalink
He was just delighted to rub that one in.
The Autopsy: Kate jumped in yet again. This is becoming a trend and for once I actually liked it. This time it seemed more about being a team player and less about micromanaging. Her lung dissection somehow horrified and fascinated me at the same time.
The Relationships: I was this close to ranting about yet another scuffle between Kate and Megan over Tod but I'll admit that their discussions about Lacey didn't make me cringe. Both women acted like adults and it was a refreshing change of pace.
But what the heck was Tod thinking? Lacey didn't want to go to Boston, she wanted to go to a party. I agree that she shouldn't have been allowed to go to an unsupervised party at age 12 but send her to her mother's. Who wants a pouty, snarky pre-teen with them on their romantic weekend with their girlfriend?
Megan confided in Peter yet again and in turn he affirmed that she has changed as a mother and a person. Second chances being the show's theme it seemed appropriate that it finally got around to Megan.

All in all, it was an intriguing murder mystery coupled with characters I've really grown to care about. How can you go wrong with that?
C. Orlando is a TV Fanatic Staff Writer. Follow her on Twitter.