Desperate Housewives Review: "School of Hard Knocks"

Christina Tran at .
In its final season, Desperate Housewives has been bringing it every week. But "School of Hard Knocks" was a less than stellar in comparison to previous episodes.
I appreciated seeing hilarious storylines such as Gaby's PTA throw-down and Danielle's new sex swings business, but let's face it: the Wisteria women are at their best when they're together. Whether it be gossiping on the sidewalk or playing poker, I just prefer storylines that encompass all of the ladies.
Sure, it was a nice break to get away from the Carlos-killed-Gaby's-stepfather-and-we-are-all-accessories-to-murder storyline. It's just that I'm desperately ready to find out what happens next. Will the dark secret get out?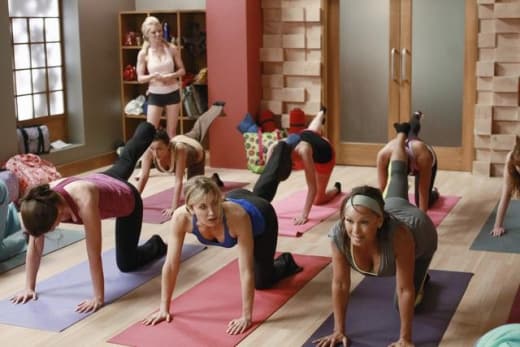 I was reminded of how much I would miss the parenting lessons of our favorite housewives here, especially Gaby's. Watching her take on the head of PTA was certainly entertaining. I found it funny that some things just never change, as Gaby only continued to think of herself by continuously trying to break the drop-off rules.
As things progressively got worse from Parking A to C, I couldn't help but feel bad for Juanita and even wonder where Celia and Carlos were. It will be interesting to see Gaby take on the unwelcoming new role of PTA President. How long do you think she will last? I'll give her one week. Tops.
With whitened teeth and a new work out regime, Tom was seen chatting up a much younger, hot girl at his apartment complex. Heart-breakingly, Lynette found out that her worst fear was, in fact, true: Tom was dating.
Although Tom and Lynette set up an appointment with a marriage counselor, I don't expect their separation to be getting prettier anytime soon. Let's see how well Lynette handles the dating game and how their kids deal with their parents' new relationships. I'm betting she and the kids will struggle.
Meanwhile, I was thankful that Mike didn't act on the dark secret shared by both Carlos and Susan. He, too, knew a thing or two about doing the wrong thing and helped Susan to see that she must accept what happens in order to move on. Of all of the housewives, she's struggled the most so far after what's happened. Hopefully, the art class will allow her to express her troubling issues and overcome her straining struggles.
It was kind of refreshing to see Danielle back on the Lane. I always did get a kick out of Bree's overbearing motherly habits and her two unappreciative children. Though Danielle and Bree seemingly got off to a rocky start upon the former's arrival, it was nice to see them make up in the end. 
With Danielle's return, I started to question if any other children, or even previous characters, would be back for the final season. It would be interesting to see Andrew, Julie and even Grace. Plus, is Bob back from Tokyo yet? Who would you like to see join the Fairview Farewell tour?
Chuck was obviously still upset over his breakup with Bree. He angrily stated that she led him on and that he felt humiliated. Curiously enough, Chuck received a set of files with several missing people reports... with the top one belonging to Gaby's stepfather. I actually gasped when seeing his picture and am so ready to see if Chuck can put the pieces together.  
Overall, I thought "School of Hard Knocks" was a mediocre episode. There's much brewing, though, and I'm hoping next week's recipe for desperation will only be better.