Desperate Housewives is known for storylines that center around betrayal, deception, juicy scandals, and even murder. 
With those in mind, "Watch While I Revise the World" definitely delivered. From the one-line zingers to the OMG moments, it was certainly vintage Desperate Housewives.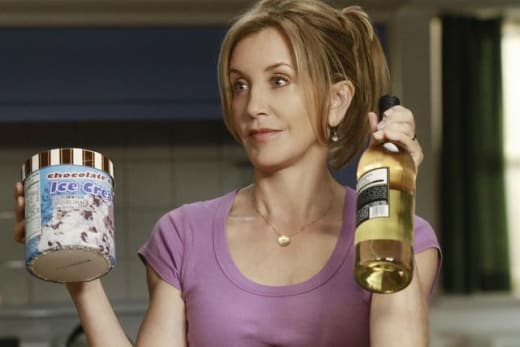 First things first, though. I absolutely hated the Carlos and Susan's insinuating affair storyline. Sure, they were feeling vulnerable and lost, and nothing really happened. Still, I couldn't stand the thought of them cheating with one another and thought Mike rightfully punched Carlos. Those moonlight strolls? Sneaking around and lying? Carlos deserved it. By the way, why on earth would Carlos and Susan run and hide in the van if they had nothing to hide? Their little rendezvous and heart-pounding moments were ridiculous.
Then again, I thought that Carlos and Susan made the right choice by telling Mike about the murder. Have you ever heard of the saying: Three may keep a secret, if two of them are dead? Well, way too many people on Wisteria Lane know what happened now and it can only be a matter of time until everyone knows. The plot continues to thicken.
As Mike stormed off after hearing what Carlos did, I couldn't help but wonder if he would really report what happened, considering his wife was also involved. What do you think?
Elsewhere... poor Chuck! I thought that what Bree did to Chuck was incredibly heartbreaking. I have really grown to like him, and thought that, in spite of everything, she still loved him, too. To say the least, Chuck was obviously upset and believed that there was another man. I couldn't agree more when Chuck told Bree that she made a mistake by dumping him.
On another note, I totally knew why Chuck had a picture of Bree's hand. In fact, I thought it was unbelievably predictable when Bree found the envelope with her name on it. 
Meanwhile, Lee and Jenny finally made an appearance. Too bad Bob was MIA in Tokyo, though. I've missed Lee and Bob's constant banter. Thankfully, we had Lee and Renee's quick-witted conversations to take their place. It was a touching moment when Renee reassured Lee that Jenny had two loving parents who were doing an amazing job.
Moreover, I liked seeing Renee revisit the mother idea. It was obvious that Jenny had fun hanging out with her. I smiled when Renee even admitted to enjoying it, too. I would surely look forward to an actual storyline for Renee. That reminds me, where was Ben?
It was nice to see Lydia return and help Lynette through her difficult time without Tom and the kids. As one of four daughters, I found the sister moments hilarious and touching. Despite their differences, Lydia helped Lynette recognize her problems with Tom while Lynette ensured that Rashi gave her sister another chance at finding bliss. 
It comes to no surprise that the residents of Wisteria Lane know how to cover evidence, mistakes and much more. I loved this installment and can't wait to find out what Mike does with news of the scandal.