Melinda McGraw is coming to NCIS November 1 as the ex-wife of Gibbs ... and Fornell.
The episode title? "Devil's Triangle." What led both men to marry this woman (Fornell has a daughter with her, as well), and where do things stand between all of them now?
An an interview with EW, which first obtained the photo below, executive producer Gary Glasberg says that with the arrival of Diane Sterling, neither man will know what hit him.
Finding the right woman to spar with Gibbs (Mark Harmon) and FBI Agent Tobias Fornell (Joe Spano), who have developed quite a rapport over the years, was a task in itself.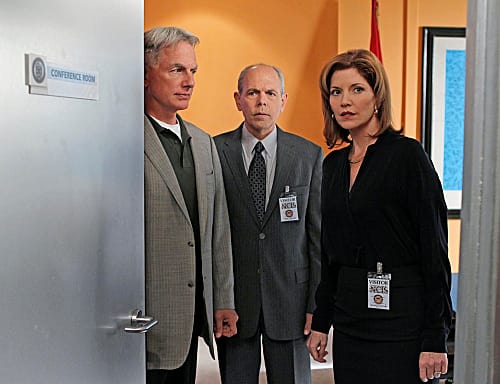 "When this part first came up it was a big question of who we could find that would be able to really make something of the banter that we wanted between this character's two ex-husbands," Glasberg said. "[Gibbs and Fornell] are two formidable, very unique characters ... it would take a very specific type of woman to handle both of them."
Fans can expect a very frank relationship shared among the trio.
"There's no hesitation and no qualms of holding back in anyway. She just lets them have it, and they just take it," Glasberg says. "It's almost as if they're used to it."
"I mean, they dish it back when they can, but what's fun about the way Steve Binder and Reed Steiner wrote this character is the familiarity that exists ... you feel like you've been a part of it before."
Glasberg says her visit will also be an informative one, as "a lot of feelings and memories come back as to why they were drawn to each other in the first place."
"We'll learn something about Gibbs and this specific wife," he adds.
What do you think that might be exactly? Are you excited to meet the former Mrs. Gibbs, who also happens to be the former Mrs. Fornell? Share your comments with us below.
Steve Marsi is the Managing Editor of TV Fanatic. Follow him on Google+ or email him here.