How To Make It In America Review: Rockin' The Suburbs

Chris O'Hara at .
Like the dish from which we got the name of this week's episode, "Mofongo" consisted of a delectable blend of story-lines served up hot.  
From Rene threatening to smack a dress out of that girl, to Ben charming the dress off Nancy, this installment kept up a frenetic pace that suited the fast lane lifestyle of these New Yorkers. If one night in The Big Apple really is like a month in St. Louis, director Miguel Arteta seemed to want to convey that with his quick cuts to and from the various storylines.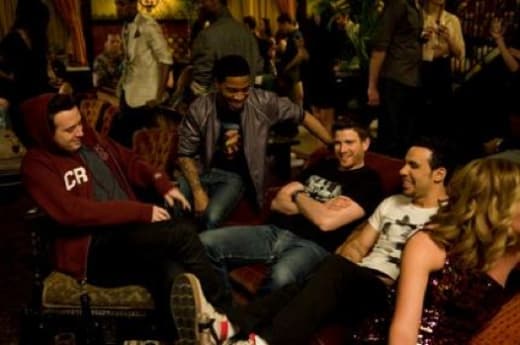 While I did enjoy seeing Rasta Monsta bust out of the bodega for Rene's sake, the more compelling scenes were the ones where he tried to win back Debbie's affection.
Don't get me wrong, the guys having to settle on New Haven's second best strip club because they had sneakers on was great, but I also very much enjoyed the more serious tone of the scene where Rene talked to Debbie's daughter about her sexuality. Moments such as this are what make the Dramedy genre work. Rene wasn't just trying to get back into Debbie's pants, he really wants to be someone on whom she can count. I hope to see his character continue to develop and straddle the line between hustler and homebody. 
While you can't knock the hustle on Ben and Cam's part for tracking down the buyers from Gadzooks, the cringe factor was almost too much to bare when they whipped out the look book at Jane. You didn't want to be "those guys" but you were, fellas.
Thankfully, Kappo was there to save the night and the scene. His credit card getting rejected, as well as his line about how everything could be gone tomorrow, did well to remind us about his pending financial crisis without having to spend any more time on it until more news develops. Regardless of the outcome, Young Gekko's spirit seemed unbreakable. Who knows, he may end up having a new career as the business manager for CRISP. From the upcoming scenes it looked as if the guys may need some help down the road dealing with the corporate higher ups at Gadzooks. 
Domingo is headed for trouble with Rene if he keeps marketing that THC spray as Rasta Monsta setting up a perfect excuse for Rachel to take her game to Bushwick and hang with farmer Tim. After the scene at her office I'm pretty sure we will be treated to yet another colorful quitting scene in the upcoming weeks.
I wasn't feeling Lulu's outfit this week, but her line about Domingo being on weed dealer time could not have been more hilariously accurate. Hopefully next week she and Cam will continue to develop their relationship. 
This week's episode was chock full of classic NYC images, from the out of town girls screaming out cab windows to the bike mob in Brooklyn, both of which you can see on most any weekend night in that city. The show's writers have proven they don't need to sensationalize the characters at all to make the story hold water. The closing scene with Ben and Nancy in the cab has been coming for a few episodes now and the pay off was very well done, as was the M83 song choice to bring it all home. 
Would you rock that CRISP hoodie? Let us know what you thought about the episode and be sure to vote on your favorite quotes.