Kristin Bauer has a newfound respect for meteorologists.
The True Blood star will make an appearance on this Sunday's episode of Once Upon a Time - playing the "Mistress of All Evil," Maleficent from Sleeping Beauty - and told me it was her first time acting in front of a green screen.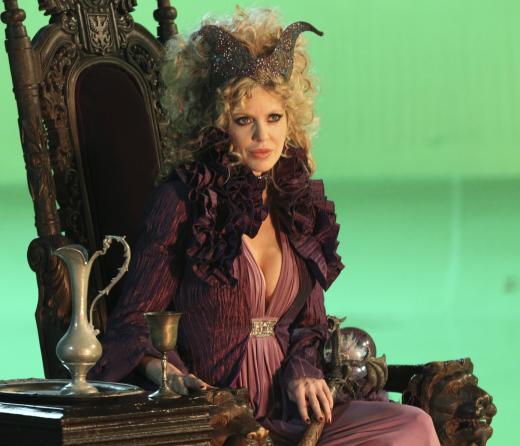 "Walking into this world I didn't know, Lana Parrilla was so helpful," Bauer said of the actress who plays the Evil Queen and with whom she shares most of her scenes. "You hear it all the time, but it really is like playing tennis with someone and she was the best partner."
For the record, avid tennis fan Bauer says she hopes she's most like Roger Federer in this analogy, "elegant and classy."
Technical aspects of the role aside, how does Maleficent play into events on "The Thing You Love the Most?"
This fairy tale character is the Queen's "oldest and best frenemy," Bauer teases. Viewers will see the equivalent of "two heads of state" meeting," with the added twist that these are supernatural beings.
"It's a different friendship than I have with others, being a human being from Wisconsin," the actress said.
How did she take on a role that's been around for decades, someone Bauer says she was scared of as a seven-year old?
"I always read the dialogue on the page and get an immediate impression," she explained, adding that she looked up clips of Maleficent on YouTube to help a bit with the portrayal, but in the end: "You have to remember they hired you for a reason. I tried to stick with that spark, whatever I possess as an actress, that I could bring to the part."
It's a tact that has worked very well on True Blood. Pam is likely the most beloved figure on that HBO smash. Does Bauer seek out these unusual characters? Is she drawn to paranormal types?
"Now they are drawn to me," she laughed. "Alan Ball and HBO have opened up this other world for me, which is fabulous... I did a lot of comedy over the years, I had my FBI phase, my sex worker phases... but as an actress you love these kinds of challenges."
Visit TV Fanatic as soon as this week's Once Upon a Time concludes for a full, detailed review.
Matt Richenthal is the Editor in Chief of TV Fanatic. Follow him on Twitter and on Google+.