"We'll Always Have Paris" was rather sedate for the second episode of a sprouting series. Character development was the name of the game and we did learn a bit more about our Pan Am crew. But was it enough to engage the viewers?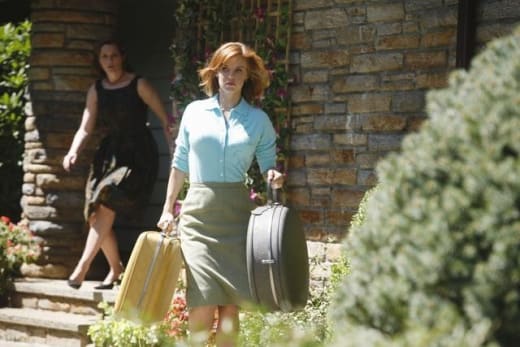 Sibling Rivalry and Mommy Issues
If it wasn't obvious in the premiere episode, it was hammered home that the Cameron sisters were driven to the skies due to what they considered a poor home life. Their world of privilege certainly must have been challenging.
The problem with that was their mom made up for all of her faults during the hour. More importantly, there wasn't anything she was doing to her girls that was out of character for the times, and her love for them was obvious. Kate and Laura jumped to the conclusion that she was there to do harm of some sort, but she was reaching out.
She did screw it up by bringing Greg along, but in the 1960s being a wife was still a highly desirable life choice. I couldn't blame her for giving it the old college try to get Laura back with her fiance. It was a last ditch effort to make sure her girl was doing what she really wanted and not just following in Kate's footsteps. Kate's mild jealousy of Laura was also torn asunder as she discovered her mother's passport was issued the summer she became a stewardess. She just didn't have the guts to reach out to one daughter until she was concerned for both.
Espionage Baby, Yeah
Dean was still miserable without Bridget, and it didn't help that she seemed to have vanished from the face of the earth. All things considered, he was damn calm. During a flashback, we learned that the last time they were in Paris, Bridget was compromised while out on the town with Dean. She was forced to give him, and everything, up to keep her cover.
Her reward was a new identity that was delivered by Kate during her mission. The message was clear: if she wanted out, do it before she lost everything in the process. Bridget chose a great replacement because Kate wasn't taking the easy way out.
Mouthy Maggie and Tormented Ted
Little Miss Maggie was leaving a scorched path in her wake every time she opened her mouth. It started with weight control, when she refused to get on the scale until their supervisor stepped up herself. Ted swept in and saved the day, and possible disciplinary action, by saying the girls were late.
Maggie met up with more trouble on board when Mr. Elkins, a buffoon in first class thought she should have been offered right along with the prosciutto, pate and escargot. He assaulted her in the galley and she stabbed him with a fork. Ted thought he'd try his hand at salvation again by covering for her.
His mistake was telling Mr. Elkins he'd ensure Maggie was disciplined even if he had to put her over his knee himself. He then proceeded to offer him a drink (because he hadn't had enough??). Ted's behavior was the last straw for Maggie. She admitted that to keep her job she had to put up with idiots like Mr. Elkins, but what she couldn't handle was that Ted made it okay for him to try that again with another girl.
Other Musings
I'm not sure how I feel about the flashback scenes. While they are providing some interesting information, they don't seem to propel the story forward. There has to be another method to illuminate the current goings on, and I'd like the show to figure it out.
I love the clothes they wear. The outfits during Kate mothers argument over Laura (shown in the photo here in the post) were both gorgeous. I would wear them today if I could. There is something so nice about seeing people well dressed instead of wearing torn jeans and their underwear outside their clothes.
I find myself watching the show wondering what you all are thinking and what might make you stop watching. It's a strange new way to watch television. Instead of immersing myself in the program, I look for things that might drive viewers away. I worry that getting attached will come back to bite me in the butt.
A lot of comments about Pan Am have insinuated the period wasn't being well represented. I disagree. The hairstyles, the decor and even the burgeoning fight for women's rights all seem very indicative of the early 60s.
While sweeping adventure wasn't in the forefront, we learned more about what drives our crew and that should do us well as we start digging into some of the bigger incidents of the decade. I'm still on board, what about you?
Carissa Pavlica is the managing editor and a staff writer for TV Fanatic. Follow her on Twitter.