Revenge taught us a powerful lesson this week: Never underestimate the power of "Guilt." Just when you thought the tables might turn on her, Emily rallied and regained control of the game. But even she didn't see where this plot for vengeance would lead.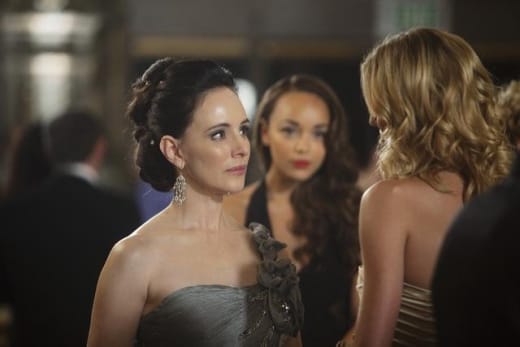 Conrad's a serious bastard. He's still sleeping with his mistress, writes her a check for $10 million... and expects to appease his wife with a car? Albeit, a $200,000 Mercedes but still. That's nothing compared to Victoria's humiliation. From there, Victoria passes the car onto Charlotte, hoping the high priced toy will buy her some forgiveness. It seems to work as well for her as it did for Conrad. How apropos.
Between she and her husband, Victoria seems the only one with a conscience. The guilt of what they did with that flight really does seem to be eating away at her like a festering cancer. Unfortunately, it appears these guilt pangs never last, so I'm not sure they make her any better than Conrad in the end. It's all about actions, not reflections, right?
So, who is really in control here? Conrad, Victoria, or Frank? Frank obviously has feelings for Victoria. I don't think there's any lengths he won't go to protect her. Plus, he's into this conspiracy up to his eyeballs like the rest of them.
Meanwhile... I was happy to see Daniel and Emily make up but I'm surprised Daniel didn't kick Tyler out for lying to him. And what is Tyler's end game? Is it to get in with the Graysons? A job at Grayson Global? We need to learn more about him because right now he's just an annoyance, a plot device, and I wish he weren't taking up screen time.
Nolan, conversely, was a heck of a friend to Emily, or, should I say, a friend to her father. It's good to be reminded that he vowed to do his best to protect her. He's certainly doing all he can and I like his quirky loyalty more each week. I can't even blame him for planting a nanny cam. 
But I'm worried for Nolan. He left his fingerprints all over Lydia's apartment and easily could have been spotted on the balcony by the crowd below. That video of Frank and Lydia might come in very handy if he gets hauled off to jail.
Emily's set up of Lydia was perfect. She had already planted the seeds of doubt in Conrad. Then, Lydia's own greed and crazy need for Victoria's acceptance made the rest far too simple. I remember thinking that Lydia got off too easy in the pilot. I'm not sure her grievances were worthy of a death sentence, but that was never Emily's plan. Then again, can she really play the naive card here? Actions such as hers can have consequences beyond their initial intentions.
Revenge took things to a whole new level this week, weaving together various developments from the opening few episodes and possibly making a dent in Emily's icy exterior. How will she react to a scheme gone fatally wrong? Will she move on to the next phase unaffected, or might shades of Amanda peek out now? Just how deeply has Emily buried her real persona?
C. Orlando is a TV Fanatic Staff Writer. Follow her on Twitter.