This week's episode of The Amazing Race, "Don't Lay Down on Me Now," was certainly the best of this short season and definitely one of the best in quite a while. 
Installments such as this - where we find ourselves on the edge of our seat and cheering for teams - is why The Amazing Race is such an awesome show.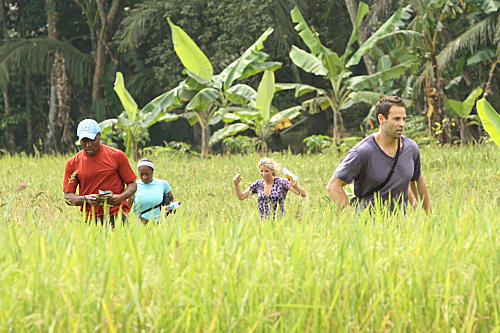 There are a number of elements that make up a great episode and this week hit them all.  Let's break them down.
The most important factor is uncertainty and dynamics. This week was packed with both culminating and a phenomenal finish. The roadblock challenge at the end of the leg gave any team an opportunity to catch up, regardless of how far behind they were. 
Case in point? Amani and Marcus , who fell behind because of taxi cab issues, but still managed a sixth place finish. Sure, they got some help from Andy and Tommy, but Marcus still had to figure out the challenge himself. Perhaps more importantly was his decision to dump their cab before the Roadblock.
Even after completing the challenge, the final seven teams still had a lot of drama left in them despite the Pit Stop being easily found on the grounds of the temple. Normally hanging on to a cab is a good idea on The Amazing Race. This week it proved to be fatal for Kaylani and Lisa.
Second on the list of what comprises a quality episode is the cultural aspect of the leg. Rooting for your favorite team is certainly fun, but also seeing the awesome places the teams visit makes The Amazing Race truly spectacular. 
Not only did the Roadblock on this leg of the race provide us with all of the drama, it gave us an extremely cool venue: Boroburdur Temple. The temple itself became the arena for the Roadblock, but was also somewhere that I felt would be awesome to visit. Both the overhead shots and the close ups of the temple looked amazing (along with the cool back story).
Another component of a great leg is individual moments that alter the course of the leg. Certainly Andy and Tommy helping Amani and Marcus was one of them. While Marcus wasn't able to capitalize on the help as much as he would have liked, it likely prevented him and Amani from being eliminated.

Andy and Tommy were also involved in another moment that could have proven very pivotal. At the Detour they noticed and even commented to Laurence and Zac that they were violating the clue by using four buckets instead of two. Ultimately, Laurence and Zac had a large enough lead where it didn't cost them their race, but they did lose out on a trip to the Middle East.
The last and most personal aspect of a good leg is that the teams you want to stay in the race do. I find myself rooting for Amani and Marcus because of how funny Marcus is on the race. Obviously I was happy to see them stay in the race. 

Beyond who I am openly rooting for, I was glad that Kaylani and Lisa were sent home. Not that I have much of a problem with them (as I mentioned last week, they've been much better since their early blow up), but every other team seems more interesting than the Vegas girls. For the record, I would have been fine with Justin and Jennifer going home, too.
This week hit on all the major points of a great episode.  Here's hoping there's more to come going forward.
More from this episode.
Does anyone else think that Liz and Marie kind of look like Charlize Theron? Liz in particular.
Speaking of Liz and Marie, I loved the way they responded to Phil when he tried to tease them with their final finishing spot. Phil: Liz and Marie…  L+M: YEA?!?!?
Andy and Tommy remind me of BJ and Tyler, the hippies who won the ninth The Amazing Race. That's a good thing for them and us because BJ and Tyler were awesome.
Cathi fell down 10 times this episode. Ok, I didn't really count, but it seemed that way, right? Hilarious.