The Good Wife can sometimes try to be too hip for its own good. Such was the case on "Affairs of State."
I have no idea if stoplight parties, a site like After Death Space or rape apps exist (I'm guessing some form of them do) but trying to shove them all into one episode made the show come across like Amy Poehler's character in Mean Girls. You know, the mother who thinks she can still hang with her teenage kids.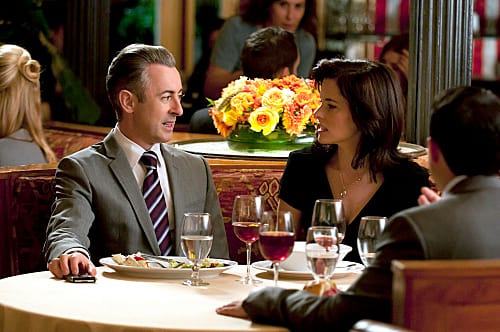 Granted, I've often praised The Good Wife for being one of the few programs whose characters talk like actual people, often by referencing current events, but there's a fine line. I draw it when those references take place in the course of conversation - e.g. Eli throwing "Rahm" into a point about running for office in Chicago - as opposed to building an entire case around the technological advancement du jour.
Or an entire storyline out of an attempt to shock. Seriously, Eli's ex-wife slept with a Bin Laden?!? Again, I see what the series is trying to do here (as it was trying to do with Will as MLB Commissioner, or Peter giving the DNC speech); it's simply trying to drop these characters into the real world, where the Presidential election is certainly a hot topic and where, well, Osama Bin Laden has second cousins.
But it's distracting. I enjoyed this look into Eli's past, and I've always been a fan of Parker Posey, but I laughed out loud when Vanessa's fling was named. I doubt that was the emotion the show was aiming for in this attempt to shed light on Eli's romantic history.
On a sidenote, one we'll likely tackle in this week's The Good Wife Round Table: should Kalinda have told Eli the truth? Absolutely. It's her job and it's true to her character as a straight-shooting professional.
Finally, two more complaints about an episode that didn't do very much for me:
Setting up Caitlin to crush on Will just seems below The Good Wife. The young office blonde has a thing for her boss? It's not original and there are only a few ways for this to end: they hook up (ridiculous), Caitlin stalks him somehow (ridiculous), Caitlin outs Will and Alicia to the firm (my guess).
Too much time was spent this week on characters we didn't know very well. Caitlin. Dana. Matan. I didn't feel invested in most of the hour's developments.
So, yes, a bad grade for The Good Wife for a change. It had its moments - Will awkwardly meeting Zach and Alicia not wanting Will to meet her kids, out of fear or a lack of love, it's unclear - and I'm proud of Cary both for his promotion and his bedding of his beautiful co-worker, but I'll be happy to never attend a spotlight party again.
Matt Richenthal is the Editor in Chief of TV Fanatic. Follow him on Twitter and on Google+.