I will hand it to The Playboy Club. For the majority of this episode, I really did think Bruno Bianchi's murder was the subject of this week's complication. Alas, it was A Matter of Simple Duplicity and, somehow, this less-than-stellar show pulled the wool over my eyes. Or did it?
We know at least two Bunnies have fallen to the dark side, but they left it open as to who Nick really protected in the end, as his interest really lies in defending the Club.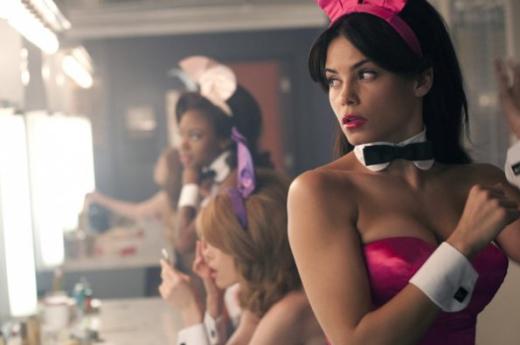 New Bunny auditions
Things don't always go as planned in Bunnyland. Carol-Lynne unwittingly hired an undercover reporter as the newest Bunny, but her tenure was thankfully short-lived and there was little damage in her wake. Narrowly escaping the big expose, we discovered murdering Bunnies are all the rage in Chicago and that Janie's secrets run much deeper than she let Max know.
Oh what tangled webs we weave
When Sean introduced Nick to a well-bred woman and daughter of a wealthy Chicagoan, it was obvious not all was as it seemed. I knew she was in it for something other than prancing around on his arm, but it wasn't until the last moment of the show that we discovered she was a lesbian. A lesbian that found Alice to be pretty darn cute.
So, Nick is dating Bunny Mother Carol-Lynne, while pretending to woo Frances Dunhill. Carol-Lynne is pretending to be just fine with the situation while dragging his opponent Jimmy Wallace (guest star Joel Gretsch) to dinner to show just how well she is taking it all, while truly hoping to hurt Nick in the process. But Nick, Jimmy and Carol-Lynn are all in the dark about the truth behind Sean and Frances and their hidden agenda. There is a lot of lying going on in and around The Playboy Club!
Other points of interest:
Max looks hot in a wife-beater. He should get more scenes. Partially unclothed scenes, preferably.
Every week I look at the wall in the club and think "Partridge Family!"
Seriously, I'm totally lost regarding Nick's family. Is Nick really Bruno Bianchi's son? They keep alluding to it, but I don't know if it's the mob's definition of family and son or reality.
It's kind of limiting with most of the story taking place inside the Club. I enjoyed the Dunhill party, even if it was brief.
Classic singer Leslie Gore was portrayed singing the classic "It's My Party." That was fun, but oh my goodness, Nick looked like an idiot dancing.
Watching the Bunnies dancing to Little Eva's "The Locomotion" reminded me of second grade, when our class did the same thing every day at lunch, but to the version put out by Grand Funk Railroad.
I expect The Playboy Club to be squashed in the ratings again by its competition, but at the very least, tonight's episode had the strongest writing yet. Everything explored wasn't an easy reveal, and it had gotcha moments. If given time, the possibility is there for The Playboy Club to improve. I just think time may be running out.
Carissa Pavlica is the managing editor and a staff writer for TV Fanatic. Follow her on Twitter.