When The Walking Dead returns with new episodes this month, love, kindness and toughness will all be in the air. How so?
The cast gathered in Los Angeles this week for a special screening of the October 16 premiere and offered a few teases about their characters. To wit: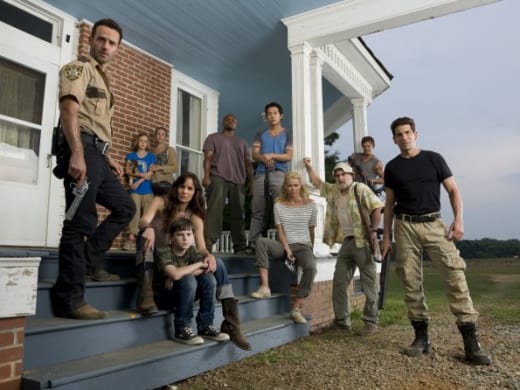 A New Daryl? Norman Reedus tells The Los Angeles Times his character is "kind of like a little kid" because he's "emotionally damaged." Look for more of Daryl's backstory to be revealed on season two, while he'll also form alliances you wouldn't expect.
A Tougher Andrea? Her suicide attempt in the past, Laurie Holden says Andrea "becomes a warrior" on season two. Simply put, "she doesn't want to be the victim," the actress teases.
A Smitten Glenn? Steven Yeun's character will fall for Lauren Cohan's Maggie Greene. This romance will give Glenn "a different reason to live," the actor says.
Don't worry, we haven't forgotten about The Walking Dead's core trio. Regarding the Rick/Lori/Shane triangle, Sarah Wayne Callies previews:
"There are a lot of secrets and a lot of consequences in keeping those secrets. I think one of the interesting questions that gets posed in the changing circumstances in this world: Has the morality changed enough? Would it be an act of compassion not to tell Rick knowing the burdens of leadership he's under, or is it something I should be telling him right already?
"The morals of the world are changing, so there's a real sense of Lori being adrift as to what's right and what's wrong. Then there's the question: Which of these men can best protect her son?"
The Walking Dead returns on October 16 with a 90-minute premiere. Visit TV Fanatic the moment this episode concludes for a detailed review.