Simply put, I thought that Greendale commercial from the 1990s was ah-mazing, but I guess the administration disagreed. One thing we can all agree on is that "Documentary Filmmaking" showed us a side of Dean Pelton that we haven't yet experienced on Community.
The Dean is normally hilarious, but he veered into crazy Chang territory this week. Too much Pelton and not enough group! None of that really mattered, though, because I have two words for you and, no, they're not bald cap. Luis. Guzman.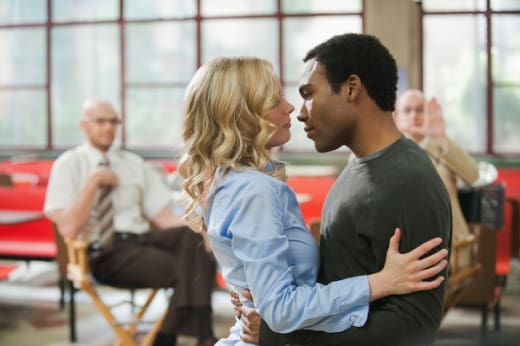 Guzman was the best use of a guest star I've seen in forever. He adds a touch of hilarity to everything he works on, even back in the days of Boogie Nights. Hey, he didn't even need the porno story flick to get laid because he had Greendale! If only everyone appreciated the Human Beings the way he did.
When Jeff first mentioned that he put in a call to Guzman's lawyer, I never thought we'd actually get an appearance. I thought Jeff was just being Jeff, but it turns out he set the best plot point into motion. I have a hard time believing someone as smart as Annie can't use IMDB, however.
I will say that Annie looked very sexy secretary in her script supervisor ensemble. Not as sexy as Jeff in his bald cap, of course. Or Chang in his Jeff wig, underneath the bald cap. Does anyone do a better impression of Pelton than Winger? I think not.
I wish I had more to say about the study group but this episode really was ruled by Pelton. His breakdown was funny before it became too whacky. I think the turning point was the tinted aviator glasses with the zip up hoodie and exposed nipple. What would one call this costume of the Dean's? Old school Marky Mark or perhaps really bald Slim Shady?
The show is running out of things to do with Pierce. His tantrum about getting his own trailer was take it over leave it. They really didn't need that end bit with Jeff Garland. One guest star was enough. Now that NBC benched Community midseason, there's only so much "Troy and Abed in the morninggggg" I have left to look forward to!
Leave it to Abed to save the day with his genius documentary filmmaking. They should've hired him for the commercial to begin with.
What about all of you? Did this episode underwhelm or did Guzman save the day? Check out our favorite quotes section and hit the comments. Last but certainly not least don't forget to watch Community live every Thursday, trend it on Twitter, check in to GetGlue and do whatever you can to save Greendale from a sad fate at NBC!