It's not every week that a show has me laughing out loud, but "Studies in Modern Movement" accomplished just that. The music video with Dean Pelton and Jeff was hands down one of the best things I've ever seen on Community.
The latter really brought his A game this week. After a bunch of episodes that found him to be bossy and angry, Jeff was back in classic "too cool to care" mode from the days of old.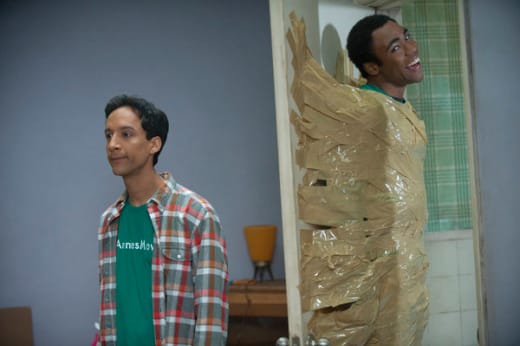 Only a person as self-obsessed as Jeff would elaborately plan a plot involving fake heart monitors and a Gap loudspeaker. Hand it to the man, he doesn't spare any detail when it comes to his schemes. The only thing he didn't count on was Dean Pelton.
By now, shouldn't Jeff know that he must always be prepared for the dean to try and get in on his plans? Hello, Pelton's obsessed with him! I love that he made Jeff order for him at the Mexican restaurant. Adios Amores.
The only thing better than these two singing Seal's "Kiss from a Rose" with a green screen was the fact that they were in matching outfits. I wish Dean Pelton were real and I could find that video on Twitter.
How else could the rest of the group make fun of him without the use of social marketing tools? If I had to live in a three-person apartment I would totally reside with Troy and Abed. They were so cute trying to make Annie feel welcome. Between the shadow puppets and giving up their room, it was all very sweet.
Then again, I'm surprised Troy and Abed wouldn't take the fort to begin with. That "dreamitorium" made me feel like I was tripping on drugs. I would definitely steer clear of that spot.
For the many people who have been complaining about how one-dimensional the writers have made Britta and Shirley, do you think they made up for it tonight? I enjoyed the car scene between the two. Hit the Comments with your take and don't forget to check out the favorite quotes section for this week's best one-liners.