With only six episodes in this back half of Covert Affairs' second season, you'd think they would want to pack a punch with each chapter in order to make a strong impression over a short period of time. You'd be right.
Last week's return of "The Wake-Up Bomb" was a solid start to the fall session, and "Uberlin" - chock full of action, CIA secrets, some Arthur backstory, and a love interest for Auggie - was just as powerful of a piece to the Covert Affairs puzzle.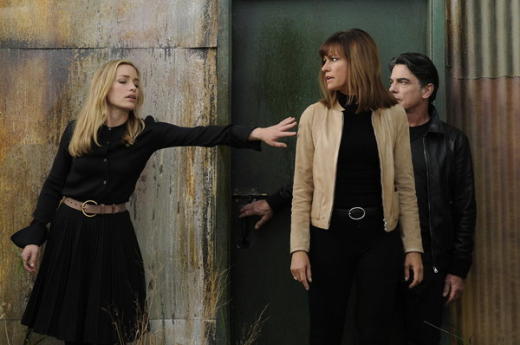 It has been a long time coming for Peter Gallagher to take center stage for an hour. We learned about how Auggie became blind earlier this year, and while this episode wasn't nearly as entertaining or revealing, it was nice to learn more about the public face of the CIA.
We didn't flashback to 1989 - because, let's face it, I don't think Gallagher can pull off age 30 anymore - but we did dig deeper into a moment in Arthur's past in order to showcase how strong his love is for Joan.
And when it came down to it, "Uberlin" played perfectly as a romantic comparison story. Within the hour we witnessed the strength of Arthur and Joan's long-lasting marriage, as well as the promise of an exciting new relationship for Auggie and Parker.
We knew that there was nothing going on between Arthur and Elsa all along, but Joan wasn't there. She didn't get our perspective, so her jealousy was not unwarranted. I loved seeing her get jealous over Arthur's former love because it made their quiet romantic anniversary that much more special.
I mean, who wouldn't want Eli Manning in a fantasy football trade for his anniversary present? Have you been watching the season he's been having in 2011? You can't spell elite without E-L-I.
Let's get back to the matter at hand. While Arthur and Joan were strengthening their already sturdy love, Auggie was seemingly cultivating one of his own in somewhat of an accidental fashion. Who else has wanted to see Auggie turn in his player card and possibly settle down into something at least semi-serious?
I am super psyched to think that it might be with Parker, played by the gorgeous Devin Kelley. Kelley was great in The Chicago Code's lone season, and she brought even more charm to the role of Auggie's Special Forces buddy's younger sister in "Uberlin." 
There is a formula to Covert Affairs, and I don't know if Auggie having a serious girlfriend works within it, but I'm happy to watch it for a while here. If he's not going to accept promotions in the workplace, Auggie might as well accept some benefits on the personal side of life.
Oh yes, Annie was on a mission on this week as well. It was good, but mainly helped to showcase Arthur's backstory. Annie did her job, fought with her sister for a bit and then made up with pancakes, but the most interesting parts of "Uberlin" focused on Auggie and Arthur. That''s not a bad recipe for success if you ask me.
Dan Forcella is a TV Fanatic Staff Writer. Follow him on Twitter.