"The First Time" was a lot like sex.
If you were just looking for a fun time and a lot of laughs, this episode of Glee was not for you. But if you tune in to be taken deeper into the teenager world, to watch a show that sometimes tries to deliver a message more than a joke, to have a serious experience... then you probably have a satisfied smile on your face right about now.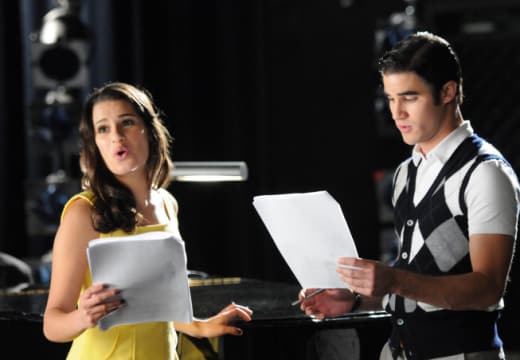 I'm more in the former camp, but I can appreciate the latter.
If Glee is going to tackle the issue of losing one's virginity straight (or gay!) on, this is how it should be done. Various points of view were espoused; from Quinn offering advice based on her major mistake, to Brittany admitting the first time is often forgettable and quick, to Tina taking the opposite approach. In the end, the characters involved made their own decisions, and they made them for all the right reasons.
The episode reminded me very much of last season's "Grilled Cheesus," which didn't shove a religion down your throat. It merely acknowledged the many options out there because, let's face it, religion is a topic teenagers talk about. So is sex. I'm sorry, but you can stick it, PTC.
Glee did not celebrate teenage sex this week, as critics have somehow claimed. It simply based an episode around teenage sex. Why? Because teenagers have sex. They had sex long before Glee, or West Wide Story or even Taylor Lautner's abs. The idea that they'd be more likely to have sex due to this episode is pure lunacy. Instead, I'd imagine that a confused teen might be relieved that there are other confused teens out there, and that one's first sexual experience can come in any number of forms, none of which need to define you.
So this is what I liked about "The First Time" and also what I hated. I don't want to take some political stance when writing a TV show review. I don't want to make this a debate over societal message, I want to make it about Coach Beiste thinking Applebee's is a fancy restaurant, or Rachel joking about a People's Choice allowing Finn to get to third base. Okay, she might not have been joking.
Point being: judge me if you'd like, but I like my Glee quick, mindless and humorous. I'm not looking to think too much, I'm looking to laugh. So no Sue, very little Brittany and no real talk of the multiple political campaigns being waged (my favorite season three storylines) left me disappointed. This also felt like another installment just dropped randomly into the flow of a season. Ongoing arcs such as Quinn's baby recovery scheme, Puck's kiss with Shelby and Rory attempting to fit in were simply ignored in favor of The Message of the Week.
Do I understand that one must accept this from time to time if one considers oneself a Gleek? I do.
But I really wanted to make a joke here about how Rachel's Presidential motto is Put a Berry on Top, which could also very well have served as her plea to Finn throughout the episode. But would that have been appropriate, given the gravity of the topic? Probably not, right? That's why I left it out.
What did everyone else think?
Matt Richenthal is the Editor in Chief of TV Fanatic. Follow him on Twitter and on Google+.