Monday's Gossip Girl was a feast for the fashionable eyes. With Studio 54 honoring Cece and her legendary elephant riding, the Rhodes ladies were nothing short of glamorous in 70s sequined heaven.
More of that to come in Part II of this week's Gossip Girl fashion recap tomorrow! Today, we're taking a peek at the first half of "Rhodes to Perdition," which was still packed with head-to-toe looks.
As the giant chest-covering necklaces take a break for a while, everyone seems to have picked up on the precious stone necklace trend. Everyone, that is, except for Blair, who had a plus moment for her capped cream booties, but a serious minus for her poor attempt at covering her barely-there baby bump. What's with the mumu, B?
Don't worry, we know Chuck loves you either way. Besides, who is he to talk with those ode-to-Kermit green socks?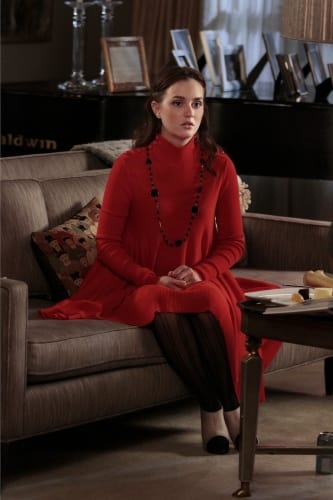 With just a little bump, why is Blair hiding under a turtlenecked tent? No dice.
Actual Dress: Donna Karan Casual Luxe Long Trapeze Sweater
Steal Dress: AGB Women's Sweater Dress with Oversized Neck
Actual Shoes: Office "All Up in My Face" Cap Toe Booties
Steal Shoes: Candela Cap Toe Monk Strap Booties
Necklace: Steven Dweck Black Necklace
Steal Necklace: Forever 21 Chic Layers Necklace

Serena went on a 24-hour date in a skin tight dress and nothing else ... no wonder Max is sticking around.
Day Dress: McQ by Alexander McQueen Silk Feather Print Dress
Steal Dress: Elizabeth and James Gosling Mesh Dress
Actual Bag: Valentino Rock Stud Calf Medium Top Handle Bag
Steal Bag: Rebecca Minkoff Small Quilt & Stud Affair Bag in Dove
With another faux S look, Chives (Charlie slash Ivy) is seriously gunning for that effortless Californian-in-New York appeal, just like her cousin.
Actual Sweater: Marc by Marc Jacobs Camino Lurex Sweater
Steal Sweater: Quiksilver Westsider Stripe Sweater in Russet Brown
Actual Necklace: Susanna Glannis red stone necklace
Steal Necklace: Kenneth Jay Lane Black Agate Stone Necklace
Lily never fails, especially not with lace number and a classic chignon.
Actual Dress: Carven Lace Dress
Steal Dress: Juicy Couture 3/4 Sleeve Guipure Lace Dress
Remember to check back tomorrow for Part II of this week's Gossip Girl fashion recap!