Our official NCIS review broke down Tuesday's episode in great detail.
Now, TV Fanatic staff members Steve Marsi, Matt Richenthal and Eric Hochberger have assembled for a weekly Round Table Q&A discussion of events from "Devil's Triangle."
Join in below, as we analyze various aspects of the team's adventures ...
----------------------------------
What was your general take on this episode?

Steve: One of my favorites in awhile. We've seen Gibbs play almost a secondary (albeit still crucial) role for much of the season, letting his "kids" take the lead more and more, but an episode revolving around Leroy was just what the doctor ordered reminded us that Mark Harmon is the man. Not that we really forgot, but you get my point.
Matt: What Steve said? A strong installment for sure. Fornell and Gibbs are like an old married couple, as we've seen for years, and meeting the woman that helped form their unusual relationship was a treat.
Eric: Loved it. NCIS always does a great job of bringing the past into the present with all the characters and the references, and the writing was exceptional this week.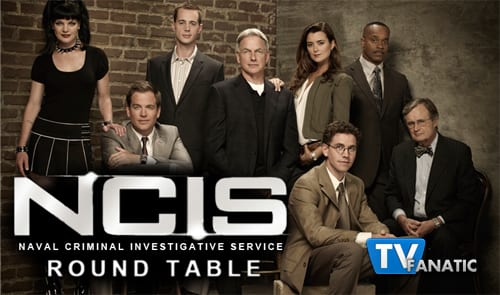 What was your favorite quote or scene?

Steve: "We pronounce it Gibbs." - Tony.
Matt: Tie between Gibbs' unflinching "do-over" with Abby and the scene at the end where Diane returned his grandfather's watch. That was not only a great way to leave things between the two characters and redeem Diane somewhat, but a vintage NCIS nod to longtime viewers who picked up on it.
Eric: "Downstairs? Got a basement here too, Mr. Woodchuck?"
Is Diane all bad?

Steve: Definitely not. Despite being introduced as "worse" than a dead Marine, and needling Gibbs for much of the episode, Diane was far more than a one-note, cliched bitter ex-wife character. She's still angry, or at least disappointed at Leroy, to be sure, but her final scenes with him were honest and poignant. She gave back the watch. He'll always be her Shannon. The complexities of their relationship became clearer as the extremely well-written episode progressed.
Matt: Melinda McGraw deserves praise for pulling off a difficult task - showing us why Gibbs and Fornell (Joe Spano was terrific as usual, by the way) hate Diane so much, while also revealing why they were attracted to her in the first place. From her wisecracks and mannerisms to surprising displays of deeper emotion, she succeeded. Vance was indeed right, she can't be all bad.
Eric: She certainly showed us why her first two marriages didn't work out, but from an entertainment perspective, she was great. I wouldn't be opposed to her returning sometime next season.
Any other things stand out during the episode?

Steve: Watching the look on Michael Weatherly's face as he tried to dissect and insert himself into Gibbs' relationship drama was amazing. Tony wasn't just nosy, he was having a blast with it.
Matt: Hmm. I want to say nearly every little thing stood out in a way that hasn't been the case with some recent episodes. The rapid-fire exchanges and the little nuances (such as the hilarious data security guy, or visuals like Tony and McGee looking around for the killer during the national anthem) made "Devil's Triangle" entertaining from beginning to end, blending the show's once-trademark humor with a serious plot seamlessly.
Eric: Abby's assistant in the lab, and how there was not even a mention of her being a little person. This didn't impact the overall course of the episode but it was a minor scene I enjoyed.
What's on your wish list for the coming weeks and months.

Steve: Next week's episode is the first of a two-part arc (see Tuesday's NCIS promo), so I'm hoping for one of the edge-of-your-seat cases that have been missing so far this fall. Eventually, if not this month, I'm looking forward to a captivating resumption of the Phantom Eight storyline from the season premiere.
Matt: More episodes like this week's? It's amazing the show still has "it" in Season Nine, but this proved that while there may be a few subpar installment, NCIS is still going strong.
Eric: Another visit by Fornell. Is there ever enough? Meeting his daughter would be awesome too. Palmer's wedding, of course, and Abby reuniting with her brother again if I'm getting greedy.
Steve Marsi is the Managing Editor of TV Fanatic. Follow him on Google+ or email him here.