"We pronounce it Gibbs." - Tony
After a number of installments centered around the NCIS team members, last night we were treated to an episode based entirely around the man himself, Leroy Jethro Gibbs. Or Leroy, as some might call him.
Maybe that's just what the show needed, a Gibbs episode to right the ship. I've enjoyed this season for the most part, but Mark Harmon truly anchored this week, reminding us why he's TV's #1 leading man.
Watching him navigate the dysfunctional family reunion of sorts that the case - with FBI Agent Fornell (Joe Spano) and their mutual ex Diane (Melinda McGraw) along for the ride - was funny, tense and real.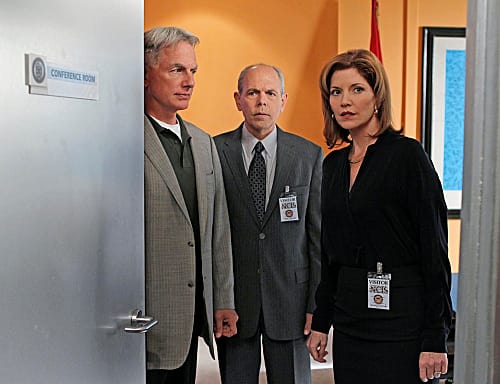 It was excellent from beginning to end, but the most moving, unexpected and emotionally loaded scene in "Devil's Triangle" was its very last. Gibbs was Diane's "Shannon," the one love she'll never replace.
He only "liked" her a lot, much like she really liked Tobias and Victor?
Of course no one could ever live up to Shannon in Leroy's mind, but hearing it in such terms - Diane saying she still loves him, even after he made her a human anti-depressant - left you taken aback.
We were predisposed not to like Diane from the way the fiery redhead was introduced, and a lot of people still probably won't welcome her back after all this, but we all have flaws and make mistakes.
It turns out that Gibbs' are the same as Diane's, searching for someone to fill an emotional void and leaving other people crushed in the process. It's never intentional, and a lot of us have been there.
Whether he was quipping that his ex's arrival was "worse" than a dead Marine, needling Fornell, giving Abby a "do-over" or finally opening up to Diane at the end, Harmon was at his best last night.
Fornell's relationship with Gibbs was brilliant as ever, proving once again that he's near-perfect character to recur periodically and mix it up with the team, very much like Diane Neal's Abigal Borin.
Diane has always bonded the two, if you can call it that, and while this week's circumstances didn't allow for quite the same rapport (see classic scene from last fall below), they're still a treat to watch.
One of the funniest scenes last night involved the two ex-husbands trying to get out of questioning Diane ... and sending Tony instead. Michael Weatherly was in the zone as Gibbs' hilarious sidekick.
DiNozzo's curiosity was to be expected, but the look on his face was often that of pure giddiness, like he had more questions and material for wise cracks than his adolescent brain could even process.
In a sense, he added a comedic wrinkle to the mix that Gibbs and Fornell could not, since they were involved in a serious case involving the kidnapping of Diane's current husband Victor (Tom Gallop).
It was hard to see how Diane would marry this career bureaucrat after our hero and his FBI buddy cop (I loved that they even jokingly referred to themselves as such), but perhaps that was the point.
Clearly, her first two marriages didn't end well ... and now Victor gets abducted at the drive-thru by a faux employee with a tranquilizer. Late night sales at Beltway Burger will plummet if this gets out.
If there was any weak point in the episode, I'd say it was that Victor seemed almost nonchalant about a massive terror plot, and his hiding of the offshore accounts felt like it needed more exploration.
First off, two million isn't that much for a 50-ish married couple. Did he really think that would change Diane's opinion of him? Isn't hiding it all offshore as opposed to a local bank shady in general?
Maybe Gibbs and Fornell just wanted Diane gone so badly that they figured they'd let Homeland Security handle that. Hard to blame them in a sense ... for men of few words, they did a lot of talking.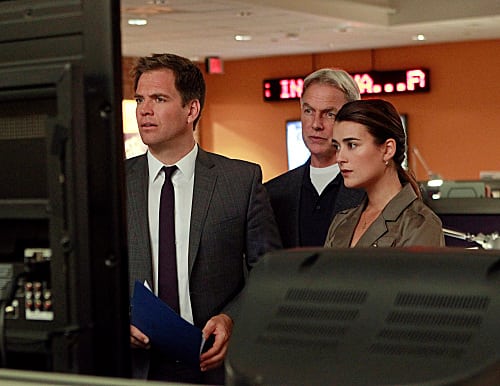 The investigation eventually uncovered a lethal, man-made virus that our killers planned to release at an Armed Forces football game - but not over the entire stadium. Their target was the top military brass.
Ziva was totally bad ass in taking down one of the perpetrators, while the other turned out to be Victor's supervisor, who in hindsight was a little too helpful and calm when his subordinate vanished earlier.
It all ended well for the team and Diane's husband(s), fortunately. Hopefully she and Victor will return to a relatively happy life, and maybe even stop by NCIS again ... just don't expect a hug from Leroy, Vic.
Overall, I really enjoyed this installment, which featured some solid guest appearances and peeled back a new layer of our team leader, portrayed by the always-terrific star of a perennially underrated cast.
A few thoughts and observations before turning it over to you ...
How old do we think Tobias' daughter is? Has that been stated clearly?
Poor Ducky is clearly still reeling from last week ... as you'd expect.
How funny, creepy and weird was the data storage manager guy?
Gibbs got Diane a waffle iron from her wedding registry? LOL.
Abby enlisted someone else's help pinpointing the virus?
Timothy McGee = Macaulay Culkin? Enough said.
Check out next week's NCIS promo.
What did you think of last night's NCIS? Comment below!
Steve Marsi is the Managing Editor of TV Fanatic. Follow him on Google+ or email him here.