Up until this episode of Nikita, the loyalties of Amanda and Sean in particular have been questioned.
Amanda had said she wanted to clean up Division, but many of her decisions ran counter to that. Then there is this mysterious, Sean, who at times seems to be on board with Oversight and Division, but also has been supportive of Alex.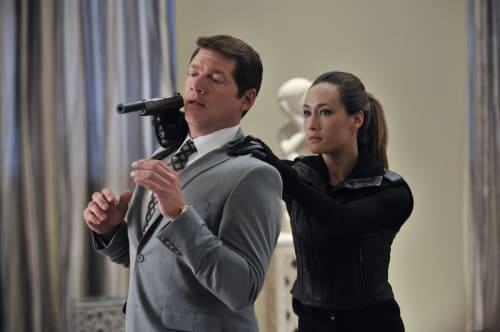 Sean has been a wild card since he joined Division. He's been a pal to Alex and tried to give her advice about how to handle her unique position with Division, Gogol and Nikita. But, his motivations were questionable. Was he there to make sure that Division was cleaned up after Percy's mistakes or to make sure Oversight got what they wanted? The question mark regarding Sean was erased in this episode.
It turns out that he is a loyal military man, who thought he was doing right by his country. When he found out that he was lied to about Ryan and that an innocent was being ordered killed by Oversight, he wanted to resigned. The senator tells him that she will call off the hit on Ryan. And then ... BAM! She is his mother! What?
The most insightful part of this meeting, after finding out she was his mother, was that Sean had his phone on so that Amanda can hear the conversation. Whose side is Sean on? His mother's and Oversight? Or, Amanda's. In the end, it is unclear where Sean stands regarding Amanda, but he is loyal to family. He may not agree with what his mother is doing, but he isn't going to let her be killed.
Even more shocking than the reveal about Sean's mother, was finding out that Ryan is still alive. Whoa! When I thought Ryan was dead, I was disappointed because he brings unique abilities to the table and is probably the only truly honest and noble character. His being alive, even though he was not thrilled, made me very happy. What will become of him now that he is in Amanda's custody? Will he help her bring down Oversight?
Is Division any better than Oversight? Is one better than the other? The way I see it they are two halves of the same big corrupt organization. Nikita always shows us so much of a grey area that it's difficult to see who is right and who is wrong.
At least we know Nikita and Michael are out there trying to make the world a safer place.
Other odds and ends from "Clawback":
A house full of mailboxes - what a unique and questionable way to make money. It did set up one of the funniest scenes ever on the show. Kitty ... Kitty ... Kitty ... and sneaks around the corner, cocking a huge rifle.
When Alex was talking to Yuri, it became clear just how crazy her story is. Her loyalties are all over the place. She wants to get revenge for her family, so she is partnering with the organization that destroyed her family. And, sometimes with the person who pulled the trigger killing her father. While Nikita has helped her in order to make amends, why exactly is Division helping Alex? Now that Alex is basically a prisoner within Division, will she try to leave?
It wasn't until I was writing up my review that I realized that Percy wasn't involved at all during this mission. It was refreshing to not have his horrible hands involved and contrary to what I said about last week's episode, that maybe Amanda maintain control.
Carla Day is a staff writer for TV Fanatic. Follow her on Twitter and on Google+.