I live with so many lies, Clay. So many things I can't ever speak of.
You aren't alone, Gemma.
Sons of Anarchy depicted one major action sequence - a gun battle that featured artillery far above the grade against which SAMCRO typically draws - this week... and a number of open, partially-to-entirely honest conversations, as emotions were laid bare, threats were leveled and characters were faced with critical life decisions.
Overall, "Kiss" was a fantastic showcase for every cast member. And it can be summed up via a few revealing quotes.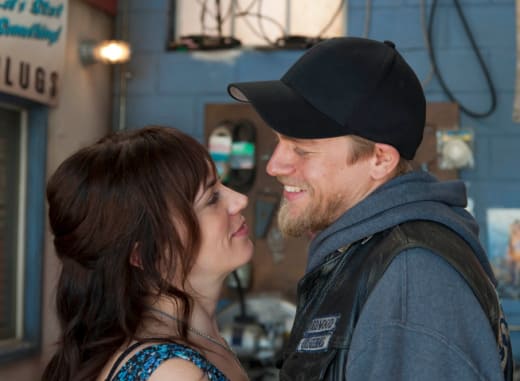 Dr. Pussy is clouding who you are, son. Oh, yes, Clay went there. A storm has been building between these two for many seasons now. They may be President and Vice President, step-father and step-son, but there's never been chemistry between Clay and Jax. The former has had Tig and, until recently, Bobby. The latter has had Opie.
Even when Jax and Clay are on the same page, they are rarely reading from the same book. Such has been the case this season in their uneasy alliance over the drug trade, which Jax finally stepped fully into this week. And that immediately preceded Clay stepping in it via the insult above. Does he care at all about family at this point? Is the Presidency nothing but a power play for a man who has already killed an original charter member and ordered the hit on the mother of his step-son's children?
And who, exactly, does Clay even think Jax is? He's always been JT's son at heart. He's capable of a gruesome kill, but he's also the club's voice of reason, as proven during his negotiation session between the cartel and the Niners. Just a great, tense moment between characters here, culminating in a threat Jax didn't even have to make. His stare said it all.
It's your path. It's the way you're wired. This, of course, leads to the grander question about Jax. Can he really change? Bobby doesn't think so. I've spent most reviews doubting whether or not Jax even wants to, no matter what promises he gives Tara. Yes, he loves his sons, but he also loves his Sons. And he's darn good at the job of leading them, taking violent steps when needed, but always with an eye on the big picture and the alliances required to survive in this dangerous world.
In other words: don't celebrate just yet, Tara. Jax may think he's "out," he may believe he just has a "few things to tie up" when he gets back... but I wouldn't put any down payments on a home for you two in Portland.
Yes, Clay is a wounded animal... we need to help him... smooch. Damn, Gemma is good. (And Katey Sagal is incredible). She knows exactly how to play Unser, how to save what appears to be a hopeless situation. Unlike her son and husband, Gemma is also someone who has her priorities absolutely clear: family first. Real, true family. There's no confusion here over loyalty resting with the club or with her loved ones at home, no concern over gathering a nest egg. She will do whatever it takes to protect those closest to her, even if it means covering up multiple murders.
For Sagal, meanwhile, heck for acting in general, it doesn't get much better than her reaction to walking in on Piney's body in the cabin. Amazing stuff.
There appears to be an inequity imbalance... I'm here to balance the scales. My only complaint this season involves the use of Lincoln Potter, a character who has swooped in to Charming and who can seemingly pull whatever strings he wants to propel the action forward. It's awfully convenient that he happens to possess the information needed to force the hands of Juice and Otto.
So, what do we do with this truth? Got me, Clay. Gemma appears willing to keep your secrets, but are you willing to believe her? Apparently not, based on your dialing fingertips. As is often the case with SAMCRO, all truths exposed this week were peppered with crucial lies:
Juice tried to commit suicide... but club members don't know why. Bobby knows Jax wants to leave... but he doesn't know about the deal with the Irish. This tension-filled, fascinating hour featured one big talk after another, all based on events that have led us here, all with characters that possess an agenda. And all taking place with Piney's corpse sitting miles away, unbeknownst to everyone in the club outside of the man responsible for it.
Hang up that damn phone, Clay. You've caused enough damage.
Matt Richenthal is the Editor in Chief of TV Fanatic. Follow him on Twitter and on Google+.