This week's episode of The Amazing Race, "Super Shady," certainly wasn't the prettiest leg of racing we've ever seen. 
The teams' loss - due to an inability to navigate - became our gain, giving us a dynamic episode where three different tandems seemed certain for last place at different points.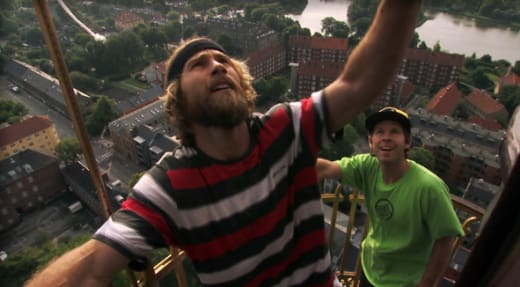 The first team that seemed doomed was fan favorites Amani and Marcus (are they fan favorites? Or just my favorites?). Certainly the married couple did not deserve to stay in the race.  This isn't the first time they've dodged bullets, either. They're becoming the Teflon Team because nothing seems to stick to them.
Their first and most egregious error was getting complacent about the flight from Amsterdam to Copenhagen. There was a note in their clue that they were not required to use the flights provided to them and somehow that was not the kick in the ass that they needed to go look for better flights.
Thanks to Jeremy and Sandy's visual error at the tower, Amani and Marcus are able to catch up, despite being well over an hour behind the leading tames. However, Amani and Marcus quickly repay the favor because of Marcus's stubbornness about asking for directions. Just as quickly as they dug out of the "inevitably in last place" hole they were back in it.
But you can never count out Jeremy and Sandy when it comes to the "inevitably in last place" slot. The pair must have felt Amani and Marcus were trying to one up them by getting lost and went and did the same thing themselves. Sandy did her usual terrible job of navigating, giving them a stranglehold on "inevitably in last place."
Facing a Detour and more navigation, Jeremy and Sandy were a lock to finish last place, right? Nope, Laurence and Zac took a page out of Jeremy and Sandy's book and got lost themselves. They overcame the Double U-Turn and had clear sailing (nice pun, huh?) towards a safe fifth place finish until we learn that they don't know how to get back to Copenhagen.
Fortunately for Sandy, Jeremy did know how to get back. Most importantly, he knew how to get back without any help from her. It was hilarious to watch his frustration with her umpteenth navigational error and impressive to watch his ability to stifle his anger. Perhaps most shocking was her seeming ambivalence to what should have been a fatal error.
What we ultimately learn was that not only did Laurence and Zac get lost, they got really lost. We'll get a more exact figure next week when we see how far behind Jeremy and Sandy start behind Amani and Marcus, but Laurence and Zac professed on the mat that they were lost for hours. Sounds like Jeremy and Sandy might have been able to overcome another Sandy navigational gaff anyway.

As much as I've killed Sandy this season (deservedly so) I was happy to see Laurence go. Initially I was excited because of his English accent (everything is better when spoken in an English accent). As the season grew on he became patronizing, sexist and annoying to watch. It was time for him to go.

More from this episode:
The "climb the tower, search for your clue" challenges are always fun. This week was no different, giving us Jeremy and Sandy's mistake.
How ridiculous did everyone look with all the makeup caked on them at the Roadblock?  Amani almost looked like she had white skin. Makes me wish Marcus had done the challenge. There's no way they would have had size appropriate clothes for him.
I have no problem with Ernie and Cindy U-Turning Bill and Cathi. The grandparents were mad, but it wasn't personal. Ernie and Cindy would have U-Turned whoever was behind them.
Similarly, kudos to Bill and Cathi for covering their ass and U-Turning someone they knew was behind them. They had no idea how long the other side of the U-Turn would take and this guaranteed they were not the only ones who would have to do it.