Two and a Half Men Review: Looney Bin or Stress Clinic?

Eric Hochberger at .
So I definitely had a sneaking suspicion throughout Two and a Half Men that it was all a looney bin dream for Alan, but man was it fun watching the guy's life slowly collapse.
I'm not sure exactly where my realization first hit me. At first I thought Jake and "Frodo's Headshots" were just a fun prank to pull on his father. But certainly not enough to convince me he was dreaming.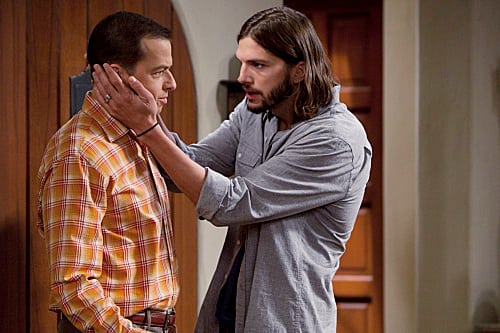 No, it wasn't the appearance of Gary Busey as his roommate in a psych ward. That's perfectly believable. And kudos to Busey for continuing to poke fun at himself while playing versions of himself. Entourage anyone?
So, for me, I think my epiphany took place about halfway through the episode. It wasn't Lyndsey sleeping with Walden. I mean, who could blame him after watching Cinnamon's Buns and they've built Walden up to be god's gift to women.
Really, it was Walden kicking Alan out. After witnessing Charlie try his hardest for eight seasons, it was pretty obvious Walden couldn't accomplish the impossible in half of one.
Even after I knew, the ride was still fun. Much like Berta, pretty much everything was funny from my perspective. My favorite bit, if you couldn't tell from my review title, were the many jokes on whether it was a looney bin or stress clinic.
Pretty much everything came down to Cryer's performance this week, which was possibly even more fun to watch than when he took on evil Alan at the end of last season.
Take all that and add in a reference to Judith and Alan's possible daughter? Even if it was all a dream, it was easily my favorite episode of the season.
So what did you think? Will even the Charlie fans be willing to recognize a good installment this season?
Eric Hochberger is the programmer of TV Fanatic, so please forgive his mediocre writing. His programming is far better. Follow him on Twitter and/or email him. Just don't request threaded comments. They're coming.