Did you see that coming? I expected "Smoldering Children" to reveal quite a bit about Larry's family, but so many things caught me off guard.
For example, I naturally assumed he was mutilated trying to save his loved ones in their burning house. That Tate doused him with gasoline and set him ablaze before his high school massacre? Stunning!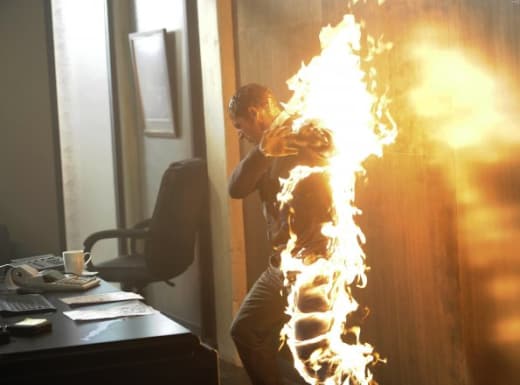 When the truant officer showed up and found the apples covered in flies, my mind screamed "Amityville Horror!" Anyone else? Just the tiniest flashback to some of the brilliant horror of the past tickles me pink. Violet hasn't been in school for 16 days. I was right!!
Let's chat about Violet's demise. Just seconds before she tried to leave the house to go to school, Tate grabbed her and kept her from attending. He was afraid of her reaction to her own death. Something tells me she will be very happy at Murder House. She didn't fit in anywhere, but in a home that she loves, full of other dead people just like her, she might find she's in her element. Because we didn't see who was in the crawlspace and Tate kept the exterminator from leaving, I immediately knew he was protecting her.
I thought it was quite sweet of Tate to try to talk her into committing suicide with him so that she could make a decision about her life that she didn't necessarily get to do when she died. Like Constance said, he really could bring heaven with a smile. Except Violet figured it out and tried to escape. Sorry, sweetie, you can't leave the property. Yes, I did pat myself on the back at the reveal. I love following the clues!
Constance has lost at least three children that we know of. Her husband "disappeared" in 1983. With the way Moira was dressed, I always imagined it was at a different time period, but given her age, the year is appropriate. I was surprised she was questioned about Travis' murder. She seems to live her life without any outside interference.
Her statement to the police about what Hugo meant to her after she discovered he had cheated was brilliantly told over the flashback of her dogs eating some freshly ground flesh. She was genuinely upset at Travis becoming the Boy Dahlia, and knew instantly Larry had a role.
Did you notice that Larry still sees his children and ex-wife with their injuries? I'm fairly certain we've seen the girls running through the house before, so they can be whole. I suppose his own condition, and his involvement with their deaths, clouds his visions of them. I liked that Travis took a liking to them, and they to him. Too bad Larry won't be able to bring him clippings about his newfound fame. Maybe when Constance finally visits, she'll humor him with a scrapbook.
Other bits:
It appears Larry's story arc is over. He's being shipped out of state to serve time.
Ben told Vivien one of the children wasn't his, but he didn't know at that time the other was Tate's.
How long until Ben or Vivien figure this house out?
No Moira this week. I missed her. Young or old, she's been an entertaining character on an ongoing basis.
You'd think Hayden would have been front and center enjoying Violet's discovery. Where was she?
It's rather disgusting to think that the flies landing on Ben had just been chewing on his daughter's rotting corpse.
Violet's dead!!! 
What did you think about "Smoldering Children?" Sounds off now!
Carissa Pavlica is the managing editor and a staff writer and critic for TV Fanatic. She's a member of the Critic's Choice Association, enjoys mentoring writers, conversing with cats, and passionately discussing the nuances of television and film with anyone who will listen. Follow her on Twitter and email her here at TV Fanatic.