Welcome back, Castle fans! Even if it is only for one week.
We were finally treated to a new episode tonight before our favorite detective show goes back on hiatus for the remainder of the year. Fortunately, the installment did not disappoint. "Cuffed" featured our leads attached at the hip and, even if it was a bit far fetched, it was pretty much amazing. So no more hesitation... time to talk Castle!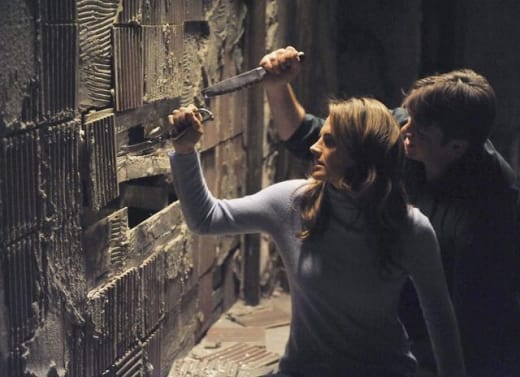 Iron Gates. So we finally saw a glimpse of why people call the new captain "Iron Gates." Girl got rough when it came to looking for her people, and I have to say, she was awesome. Even if she did assume Castle got Beckett into the situation... well, can you blame her?
She wanted to make sure her detectives detective and writer were okay. This was really the first time we saw her in the field and she was pretty tough. I vote she gets in on the action more often.
The Case. What case? There was so much going on with Castle and Beckett that it was difficult to focus on the case at hand, even if it was the reason they were cuffed together. There were a few things that seemed far-fetched and a little unrealistic, but with Castle, that's alright. Was anyone else wondering how Crazy Old Cage Lady managed to stick both of them with the needle?
Anyway, can we take a second to discuss the creepy factor of the criminals? Cage Lady and her dirty sons were not only shady, but totally weird. Perfect casting.
So Espo said it best to Ryan: he was going on a relationship test being stuck in the car alone with Jenny on their drive to Florida. That was definitely the theme of the episode, locking Castle and Beckett up together for hours. They proved once again that they kill it as a team; they trust each other, work well together and make us laugh while we patiently wait for more Caskett moments.
Next time?! Beckett dropped a hint of hope on Castle and all of us shippers that "the next time they are cuffed together all night, let's do it without the tiger." Looks like our favorite emotionally damaged detective is ready to take some baby steps.
Some after thoughts...
Lanie: You need to get it together with Espo, like now. Who else is with me in starting to harbor a serious crush on Javi?
The container full of knives and chains? Was not expecting a tiger to come next.
Breeding tigers in Texas, who knew?
Overall, a perfect Castle episode. Funny, romantic, serious, far-fetched; everything we have come to expect from the series. It had to be good because it is all we have to hold us over until the new year. What did you think, TV Fanatics? Did you enjoy "Cuffed" or was it too off beat? Were you as creeped out by Cage Lady as me? Sound off in the comments section and check back later this week for the Official Castle Round Table. 
I want to wish all of you Castle fans a happy Holiday season and a healthy New Year. Now let's count the days until a new episode. Ready? Go!