It was the dreaded high school reunion this week on Rizzoli & Isles... where one's goal is to show up looking gorgeous, with a hot guy on your arm, a fabulous job and pictures of beautiful children to coo over. Well, two out of three ain't bad.
"Seventeen Ain't So Sweet" threw Jane into the middle of this event with Maura as her date instead of her smokin' military man Casey. He was off fighting for his country, but it appeared he'd rather be spending some quality time with a certain detective. Even via cyber chat these two are cute and sexy.
As with most reunions, things were awkward. Former jock Rory Graham called Jane "Roly Poly Rizzoli," her hideous high school nickname. Isn't it funny how even years later the nice guys are still nice and the arrogant jackasses are still, well, arrogant jackasses?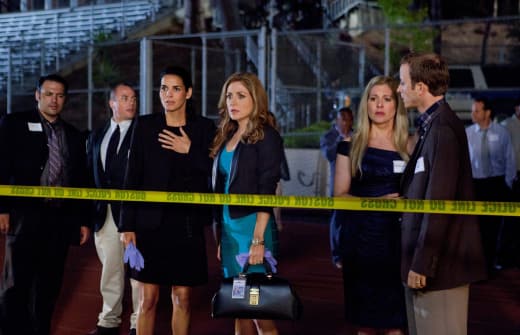 Maura's ex, Giovani - you might remember his as The Licker - turned up still believing that Maura and Jane were a couple. You'd think Jane would almost be grateful to have a body drop.
Of course, it had to be one of the nice guys. Steve's death on the football field managed to kill the infamous school spirit at these gatherings, as suddently everyone was a suspect.
One of the highlights of this investigation was the old yearbook photos the team managed to dig up on one another. Jane had an almost-unibrow and cheesy senior year quotes; Korsak's school play outfit should be burned; but Frost's rap video had to be the most embarrassing things of all. I loved how Jane held her hand over her mouth trying to stem the mock-filled laughter. Even funnier was the fact that Frost still seemed to consider his performance cool.
If one dead classmate was interesting, then three were downright intriguing. I never expected the body count to go there. This was one dangerous reunion.
It all circled back to a defected heart valve, which was great because it gave Jane the opportunity to put the cuffs on pharmaceutical tycoon Rory and his snooty wife.
The side story involved Korsak's ex-wife showing up. Melody (played by the always lovely Lolita Davidovich) left Boston five years ago with her son and it sounded like he and Korsak were pretty close. Now she's back, looking for cash for her new business and using access to her child to push Korsak's buttons. That's certainly a way to get me to hate a character in the first five minutes.
Overall, this was my favorite Rizzoli & Isles of the winter season. The story kept me guessing and the team chemistry was perfect. With only a few more remaining, I hope we get to enjoy more of the same.
C. Orlando is a TV Fanatic Staff Writer. Follow her on Twitter.