It's not only big brother who is watching. It's everyone else. Blue Bloods proved that all of us live our lives in the spotlight, whether we like it or not.
"Whistle Blower" started off with our murder victim watching a giant blow up rat being filled with air. I had to wonder, do they specifically make those for union workers going on strike? I mean, why else would you want a huge, air filled rat?
Ray Milo was a guy looking to protect construction workers and was willing to stick his neck out to do it. Unfortunately for him, the biggest rat was right in his own home.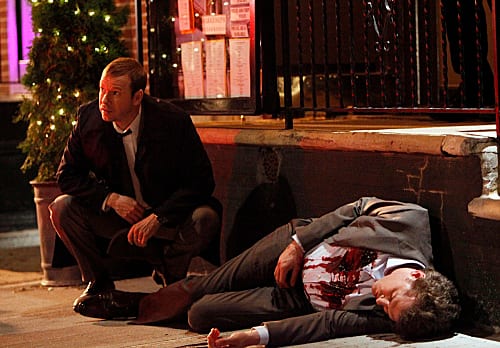 At first Jenna's anger didn't seem unwarranted. She did just lose her husband and Erin had promised to protect him. It did seem a little over the top when she flew into a rage when Erin dropped by. Then, I realized she had something to hide.
I had to laugh at the venom in her voice when she called her husband a rat, when she was the one who ratted him out, causing his death. 
Of course, I loved the Reagan family dynamic throughout this case. Frank stopped by to check on his guilt-ridden, overworked daughter and Danny supported his sister by doing his job and finding out who killed Ray.
The side story was equally interesting and had a message we should remember. Always assume you're being filmed. Cameras are everywhere. Conversations are recorded. Privacy is a thing of the past. 
As with the case of Officer Acosta, sometimes the video doesn't show the whole story and that's when things get dangerous. One viral video can cause a mob mentality with serious consequences. 
I liked that Frank was willing to play hardball to get the entire, unedited version of events. The public has the right to know but it also has the right to judge all available evidence, not just one person's slanted version.
What was even better was Frank's set up of Danny and Sunday dinner. Saint Danny, indeed. He's done plenty on the job that he wouldn't want Internal Affairs to have video of.
Yes, if you've got nothing to hide, you've got nothing to worry about but honestly, how many of us truly have nothing to hide?
There's always something you'd like to keep private. Well, welcome to the 21st century, where privacy is a thing of the past.
C. Orlando is a TV Fanatic Staff Writer. Follow her on Twitter.