Why does it take a major character leaving for the intensity and excitement on CSI to be cranked up to 11? I haven't sat with sweaty palms watching this show since Warrick exited in 2008. 
CBS has been making sure we knew that Catherine Willows only had two more episodes remaining. Given that Marg Helgenberger has called the show home for more than a decade, I'm glad to see the writers are giving her a complex and emotional send off. But the big question is still how she is going to leave. 
Most fans have been thinking that the when Sheriff Liston told Catherine she had put her in for a job in D.C. several episodes back that she would be written out, heading for greener pastures. I certainly thought so, and after the introduction of Agent McQuaid (Grant Show), I had hypothesized that she might even make a love connection there and end up moving for a job and a guy. Sounds very "happily ever after," right?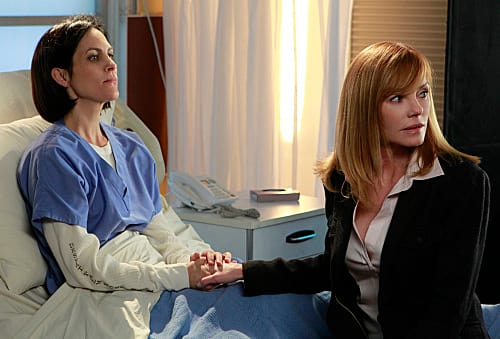 Apparently I forgot this is CSI, and all of those theories were dashed during "Ms Willows Regrets," as Agent McQuaid was killed and burned along with Catherine's friend Laura because a professional hit team out smarted the FBI.
I'm not a big fan of important events happening off camera" especially any type of character death. Too many times writers will use the fact we didn't see someone die as a loophole to bend reality and bring a character back from after they were decapitated, blown up, hit by a meteor or dropped in a volcano.
So I have to say thank you to the writers for the handling of McQuaid and Laura's death. Even as sad as it was, having Catherine walk up to the car and take a long look at the bodies, allowing us – the viewing audience – a chance to reconcile that they were the ones killed (and really dead) was well done.   
This, of course, lead to the climactic final scene where Catherine managed to escape from three highly trained hit men by running into the street and the convenient arrival of DB. Don't get me wrong, she was shooting back, so I can understand why they hesitated to follow her through the house. The part I didn't get was why DB was there, or how he had any idea that she was in any kind of trouble.
Because the episode ended on a To Be Continued... note, I may get answers to these questions next week. I should also mention that those questions are very minor, given that the overall episode was very well done. I enjoyed DB stepping up and taking the heat from Brass. It's rare to find a supervisor that's willing to do that for you. It's these moments that make me like DB a little more each time.  
But we still have the question of exactly how Catherine will be leaving. How do you think the powers that be are going to have her depart the show: 
Death? 
New Job? 
Witness Protection?
Ride in a Tardis?   
Sound off now with your best theories!
Jim G. is a TV Fanatic Staff Writer. Follow him on Twitter.