Jane By Design Review: The Finger Bowl Mistake

Carla Day at .
On "The Finger Bowl," Jane's dual life continued to move in distinct directions, with some of her work confidence starting to transition over to her school life.
Jane's day started with a call from Gray that prevented Billy from telling her the truth about his relationship with Lulu. I'm not sure why he didn't go see her the night before, but he probably was too scared and therefore procrastinated until the last minute. Typical teenage boy behavior, right? Unfortunately, that plan backfired on him as Lulu kissed him when he arrived at school before he told Jane the truth.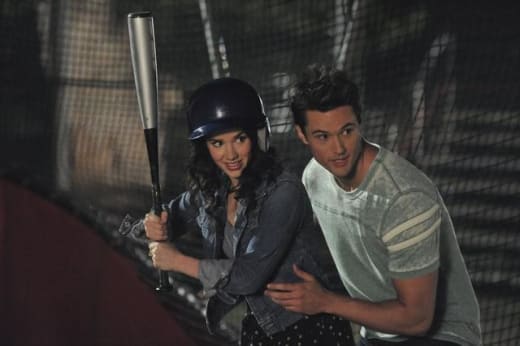 Jane's reaction was perfectly natural. Not only did Billy keep a huge secret from Jane, his best friend, but it was about a relationship with someone who treated her horribly. It was a double betrayal. Jane gave Billy the cold shoulder for long enough, though.
A friendship like theirs is strong enough to overcome this. The closing moment with them on the couch was touching. If this was the biggest fight they have had in over 10 years, they are meant to be together. They love each other, are best friends and that is solid relationship material. But they aren't there just quite yet. They need to experience other relationships and heartbreak before they recognize what is right in front of them.
I hope the show doesn't go the route of one of them realizing it while the other is in a relationship and then vice vera. As cliche as this show can be, that would be too much. The writers should create new ground with this relationship.
But, seriously, how cute did Billy look when he was sitting there talking the situation over with Ben? I'm not sure how Jane didn't see that when she got home.
On the work front, I've previously said that Jane has a confidence there that she lacks in her personal and school lives. However, now I'm not sure it really is confidence. Instead, it's a lack of fear. She doesn't have anything to lose, so she will say and do what she feels is right at the time. Since this world isn't her life, there's little to no risk. She is in a high profile position and respected which helps, too.
I'm not sure in the real world that someone like Miyoko Sato would have really reacted to Jane as she did here. The awkward-speaks-her-mind assistant that won over a high level executive with her honesty and faux pas is a bit unrealistic. It also wasn't very original storytelling, but ended up with an interesting twist at the burger joint for Jane.
Jane's school and work lives collided! Jeremy and Nick came face-to-face! Oh my!
The personal confidence that Jane's been building at work crossed over to her love life when she went to find Nick at the baseball field. She took a chance and it paid off with Nick and her getting closer. In the end, it was left up in the air if or when they would meet up for coffee. But Nick lied to Jane. What is it with the men in her life? (Billy lied, Jeremy is chasing her but sleeping with India, and now Nick - Sigh.)
Who is Ashley and why was she out with Nick? Maybe, just maybe, this will be a misunderstanding and Ashley ends up being a family friend or relative. But, regardless, to Jane it seemed like he lied to her.
Will Nick and Jeremy meeting each other put doubts in their minds about what Jane is up to? Will Jeremy figure out that she is a high school student? Or will Nick think she is dating an older man?
"The Finger Bowl" moved Jane's story forward more than any of the previous episodes. It provided depth to her relationships with all of her men: Billy, Nick, Jeremy and even her brother, Ben. What do you think will happen next? Which of her potential love interests will make a move first?
Odds and Ends
I didn't miss India at all. Her negativity and spiteful behavior is unpleasant to watch.
When Lulu flung herself and Billy that morning, it came across like she wanted to flaunt it in Jane's face. I'm not sure why Billy didn't get upset at her. If she really cares about him, she would be nicer to Jane, right? Given that scene, I was pleasantly surprised when Lulu encouraged him to go after and talk to Jane later in the day. Maybe she isn't so bad after all. Okay, probably not.
The blossoming relationship between Ben and Rita is a nice offset to the drama in Jane's life. Rita crushed on Ben in high school and now he likes her -- he better not break her heart!
Poor Jane and the finger bowl. I've never been to a restaurant with a finger bowl either. Why would there be a lemon in it? Looked like a drink to me too!
Carla Day is a staff writer for TV Fanatic. Follow her on Twitter and on Google+.