If Once Upon a Time taught us anything with "Fruit of the Poisonous Tree," it was to be careful what you wish for because even your heart's desire could end in a twisted and treacherous fate.
Dangerous Desires. I was disappointed that we saw so little of David and Mary Margaret. That kiss from last week must have went well because this week they were holding secret trysts with wine and more smooching. They're having so much fun that neither one of them wanted to talk about the consequences of their actions. 
David still has a wife, after all. As much as I want these two together, no good will come of this. Especially since Regina's on to them.
A Perilous Wish. So King Leopold gave the genie his freedom only to have him turn around and kill him. I must admit, I wasn't a huge fan of King Leopold. Sure, he adored Snow and her mother but when he proclaimed his undying devotion for his first wife in front of his current spouse, that was somewhere between thoughtless and cruel. Then he read the Queen's diary and locked her away.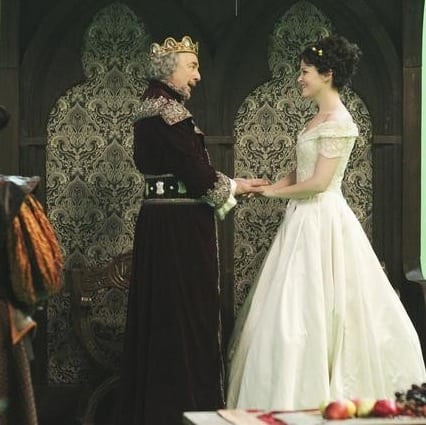 Perhaps Snow's mother was the good one because her father was fatally flawed.
The Queen looked so hurt and innocent one moment and then so evil the next, almost like two completely different people. Kudos to Lana Parrilla for making that transition appear so natural. 
The genie was so infatuated and desperate for love he never had a chance. Of course, that didn't absolve him from committing murder. The Queen manipulated him but he's the one who did the deed. It was almost hard to feel sorry for him when he was banished to live all eternity in a mirror.

Treacherous Allies. I knew Sidney's evidence against Regina seemed too easy. Poor Emma was just so eager to take down the mayor, especially after she took Henry away, that she was more than willing to buy in. 
Now Emma thinks she has an ally when she's actually colluding with the enemy. Or is she? Could Sidney be playing both sides? Either way, I don't think anyone can trust him.
The Missing Book. I loved how Henry was smart enough to be suspicious of the mysterious writer when he asked too many questions and was quick enough to turn the tables on him. Once Henry asked a few questions of his own, writer man was on his way.
So... is that Henry's copy of the book or do you think the writer has a copy of his own? Does Emma really trust Sidney and will David leave his wife or is Mary Margaret destined to be nothing more than a mistress in Storybrooke? With two weeks until the next new episode, there's plenty of time to ponder the latest twists in Once Upon a Time.
C. Orlando is a TV Fanatic Staff Writer. Follow her on Twitter.