When we left the magic world of last month Once Upon a Time, Sheriff Graham had his heart crushed. Literally.
What will be the ramifications of this tragedy? We checked in with Raphael Sbarge - who plays both town therapist Archie Hopper and the fairy tale world's Jiminy Cricket - to find out how the residents of Storybrooke are handling Graham's untimely demise.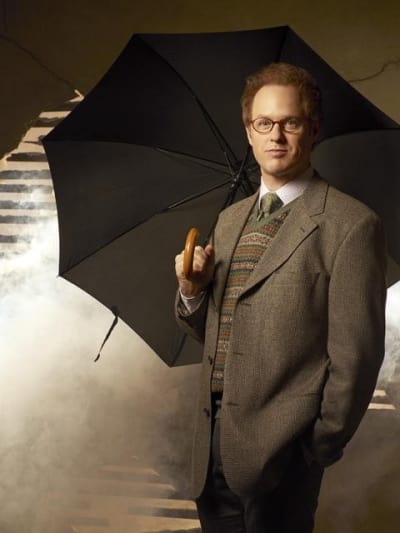 "Killing off the sheriff... a lot of people were shocked and even heartbroken about it," Sbarge told me over the phone." I think that keeps the pressure and sense of danger up."
But do any of the characters suspect that Regina had anything to do with Graham dying?
"I'm not allowed to speak into the future but I doubt it," the actor said, allowing for this little tease: "There's an episode coming up with Rumplestiltskin where you will find out a lot more about him."
Once Upon a Time returns with a new installment on Sunday and Sbarge said the season will culminate with a major event.
"I think we're laying the track for what will be this big battle, Operation Cobra. We are sort of framing the story from multiple angles."
And those angles are both familiar and fresh simultaneously, a difficult combination to pull of.
"They are essentially being so smart about the story telling," he said of the show's writers. "They've reinvented [fairy tales] and given them a whole new spin. It has edge. It's a little dangerous and the stories are limitless."
They are also entertaining and safe for all ages.
"The thing that I keep hearing from people is that it's the first time in years that they feel their whole family can watch a show together... every Sunday night, I sit and watch with my own kids." 
C. Orlando is a TV Fanatic Staff Writer. Follow her on Twitter.