After the disastrous last episode of 2011, The Big Bang Theory busted out the laughs with "The Shiny Trinket Maneuver." Fans have been clamoring for some Sheldon and Penny moments and they were finally answered here.
The addition of Amy and Bernadette to the show has been hit-or-miss this season, but they were used to perfection tonight. I wasn't sure how realistic the new boyfriend-girlfriend status between Sheldon and Amy would be, but despite their dating agreement, problems were sure to arise.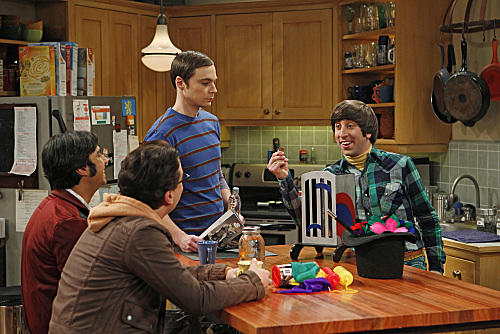 On their monthly Thursday date, Sheldon showed little regard for Amy's announcement that her research was being published. This was a bit surprising since he's big on titles and achievements. It revealed how dismissive he is of her profession. That isn't going to bode well for their relationship.
But it led to one of the funniest moments ever on the sitcom and certainly the funniest Amy moment. Her excitement over getting a tiara was over-the-top, but absolutely precious. This is the Amy I hope we see more of, rather than the annoying one that shows up too often.
This scene worked so well because the build-up to it came from Sheldon going to Penny for help. While we didn't get to see the tiara purchase, Sheldon's response that it "may have been too much" said all that needed. Plus, he had the pocket watch!
While the Sheldon-centric story was my favorite of the night, the Howard-Bernadette relationship trials fit in well. Bernadette has grown as a character, from the cheerful and happy girlfriend to an opinionated companion. Prior to the engagement, Bernadette was the happiness in a scene, now she comes across as strong in her convictions.
When Bernadette faced down the kids at the magic show, I almost lost it. The stare down and threatening "no cake," was so unexpected that it made the moment. And the milk going down Howard's pants was chuckle-worthy, too. Poor Howard.
The resolution of their fight was not nearly as comedic as Amy's gift, though. Howard's always been sensitive to Bernadette making more money than him. Is this the end of the discussion or will it come back up? It's probably over for now. They overcame the pre-marital conflict when Bernadette compromised about having kids. And how about the condom coming out of her ear trick!

This is a example of how The Big Bang Theory can get the relationships right. The scenes and character groupings transitioned perfectly and each had their moments. By the way, did you know that there really is a Jenga Donkey Kong game? It's going on my wish list!

Amy's excitement about getting a tiara and being a princess was my top moment of the evening. What was yours? Not sure? Refresh your memory with our Big Bang Theory quotes section!
Carla Day is a staff writer for TV Fanatic. Follow her on Twitter and on Google+.