We're paring down the list from the 42 people who made it through Vegas to American Idol's Top 24. Tonight, contestants will make the walk to their final judgment. It's like the Idolgeddon.
Before their final auditions and learning their fate, contestants were treated to Le Reve-The Dream, a Cirque du Soleil show, as both a reprieve from competition and a chance to scope out the stage where they'll sing what may be their swan songs. It's one night off before some of their lives will be drastically changed.
They've chosen their numbers, their instruments, their outfits. The contestants are ready. So are the judges. So are we. Let's get to it.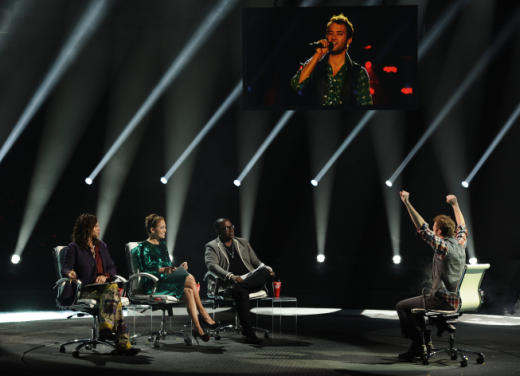 Jen Hirsh is up first. We got to see about 20 seconds of her final audition. Randy said it was "okay" for her. In her sit-down with the judges, Randy says it's about being the best of the best of the best. Steven says "it's not easy" when Randy asks him what he thinks of Jen. I'm not sure what he means by that. Randy lets her know she's made it and says she's one of the best in the competition.
I'd like to take a minute to point out that I think Steven broke into a Ringling Brother's costuming tent and stole those pants he's wearing. Because that's the only place where those pants could be appropriate.
Up next on is Creighton Fraker, starving artist. As a little background, we find out that Creighton was adopted by a preacher and his wife as a baby. When Creighton was 25, he learned that his birth father was actually the lead singer of thrash metal band Flotsam & Jetsam. While he may have grown up singing in the choir, rock and roll is in his blood. J.Lo says they're looking for someone who's been consistent, who will touch America. Then she says he's made it. And we get our first "good lookin' out" of the season from Randy.
Lauren Gray is another contestant with a strong family connection. She tells Ryan that her dad has been trying to make it in the music business for as long as she can remember. It seems she's doing this as much for him as she is for herself. Randy tells her this is the judges' least favorite day. He recalls that things got increasingly more difficult for Lauren as the audition process went on, that maybe she got a little inside her own head. She's our first no of the night. But they hope she comes back next year.
We flash back to Joshua Ledet's Galveston audition, which actually bordered on awful and awesome. He certainly came into his own as the auditions progressed. Randy likes to drag out these reveals. No, loves. And he loves the misdirect. And he misdirects Joshua into nearly bursting into tears. Instead he gets a yes and bursts into song. And he keeps on singing even after he comes out of the judges chambers.
We're quickly told Blaire Sieber and Naomi Gillies are out.
But that might leave room for Haley Johnsen, who admits she struggled early on with confidence. However, she found a way to shine in Vegas. Haley says she wanted to come here and overcome her shyness. Steven tells her she's going through. I much prefer Steven's quick-and-dirty approach to Randy's long and drawn out tease.
Neco Starr, from the Savannah auditions, shined brighter than the other contestants in some of the early rounds. But not in his final audition. In an attempt to impress J.Lo, he made an awful song choice and did a total crash and burn. Randy, in a turn of events, decides not to drag things out. He didn't make it.
Neither did Clayton Farhatt or River St. James. Or Caleb Johnson, who fell apart epically in his final audition and asked to start over. And then he asked for water. Steven shouted "You're surrounded by it!"
And they are. This stage is surrounded by water and I'm somewhat afraid that at any moment one of them is going to fall right on in. I mean, with all the fainting that's happened this season, it's not exactly a leap. (Pun not entirely intended there.)
Elise Testone says the Idol experience is everything she's ever worked for. She tells the judges that when she sings, she feels it. She tries to convey every emotion that she has. Randy says they've had some amazing singers this year. And again, he doesn't want to drag this out for her. Then he passes the buck to J.Lo who says she's made it.
We finally learn why Reed Grimm had that breakdown in Hollywood week that sent him running to call his Mama. Reed's father, the man he credits with starting him in music at the tender age of two, passed away several years ago. His wish is that his father could be here to see him get this far. Reed played the drums again in his final audition, hoping for the same success he had in Hollywood week. Randy says Reed has to make sure he can show off his vocals and not just his ability to scat. Steven says he's made it and Reed busts out into something like a dance. Clearly, he's excited.
Our mobile DJ, Erika Van Pelt, follows Reed. She looks on the verge of tears throughout her final audition and J.Lo says to Randy that she doesn't like the song. And truly, it wasn't spectacular. J.Lo confirms that her final audition wasn't great, that it made things difficult for the judges. The judges have to decide who they're going to take a chance on. And they're taking a chance on Erika.
And now we come to the country portion of the night. In Hollywood week, Chelsea Sorrell forgot her lyrics and had to start over. In Vegas, she was one of two to make it through from her group of four.  Chelsey, whose aspirations in life are to be a mom and a country singer, is getting closer to one of those goals. Steven tells her she's made it. Those dreams of motherhood are going on hold for the time being.
Baylie Brown was the other person from Chelsey's group to make it in Vegas. She's already made it farther than she did the first time she auditioned five years ago. Steven asks how she feels about her performances over the past couple of weeks. Baylie says she feels like she could've done better on some of them. Steven takes a page out of Randy's playbook and says it doesn't give him great pleasure to give her these results. It makes him ecstatic. Baylie's in.
Ha. Ryan's so funny. Richie "laid down the law" during Hollywood week. (Get it Richie? Law? Richie Law?) How in the name of all things sweet in this world did Richie make it this far? Randy says he didn't make it, but he's only 19 so he can keep working and come back. And then we got our second "Good lookin' out" of the night. I'm not sad to see him or his cowboy hat go.
Heejun Han sits down with Ryan before visiting the judges. Ryan says "So, you said you're sweating. What are you sweating?" Heejun replies "Mostly water." And I nearly spit mine out on my computer screen. Heejun works with special needs children in his real life and says that this experience hasn't been just for him. That 100%, it's been for the kids. Heejun also says every Asian man's dream is to hug and kiss J.Lo. And every American man's dream, too. And that's what he plans to do once he gets his news. Steven Tyler says Heejun is "one ugly, great singer..." like himself and that sometimes that works in their favor. Steven also says Heejun is a better star than he is a singer. So they're sending him through. If this guy doesn't make it in music, please for the love, someone give him a stand-up act somewhere. Please.
Next into the judges' chambers is 16-year old Jessica Sanchez, who was five years old when she first started watching Idol. First, she looks crazy-older than 16. Second, she recognizes the sacrifices her parents and family have made to help her get this far. Her final audition song was slow and sleepy. That will be the death-knell for her if she continues to pick songs like that next week. She's through to the Top 24.
Phil Phillips tells us the first group round in Hollywood week was incredibly stressful. He didn't do his best and he knew it. He picked up the guitar for his final audition and showed that he's strongest when he's behind the instrument. Randy calls him unique and different. Phil says if they send him home, he'll still feel good about it inside, but if they keep him it'll be awesome. J.Lo puts him out of his misery. He's not going home.
Idol "veteran" Colton Dixon isn't comforted by Phil's ascension, according to Ryan. We're reminded that Colton has made it this far without even meaning to try out this year and that he took his sister's cut in Vegas harder than she did. He dedicates his final audition, Coldplay's "Fix You," to his sister. Randy says Colton has one of the most unique stories of the year. And this time Colton's made it to the Top 24.
Brielle Von Hugel and Stage Mom Camille are here. Except Mom can't make the final walk with her baby girl, so she stays behind to swap spray tan secrets with Ryan. Brielle says she realizes that the judges have to cut people. They're quick to tell her she's made it. And then she does something sort of like dancing once she reunites with her mother
First-time dad Adam Brock's sentence closes the night. He says the performance he felt most comfortable with was his rendition of "Georgia On My Mind." That's when he says he knew he belonged there. He seemed distracted in what we were shown of his final performance. The judges said it seems like he doesn't really know who he is. Adam's a blubbering mess in the judges' chambers. "I have to sing," he says. Steven says they believe in him, but they don't know if Adam believes in himself. Randy says their decision wasn't unanimous, but the majority rules.
And we won't know what the majority thinks until tomorrow night. Oh, cliffhangers. How I loathe you! Tonight, we named 13 of the Top 24. Tomorrow we'll learn the names of the remaining 9.
What do you think of our confirmed Top 24 so far? Were you as shocked as I was to see Lauren Gray go home?
Miranda Wicker is a Staff Writer for TV Fanatic. Follow her on Twitter.