This week on Archer, we were treated to a self-admitted throwback to one of the strongest season one episodes, "Skytanic."
Here, though, rather than hopping on the most ridiculous mode of transportation to stop a fake terrorist threat, the ISIS gang kept on the ground, escorting a captured Canadian terrorist back across the border.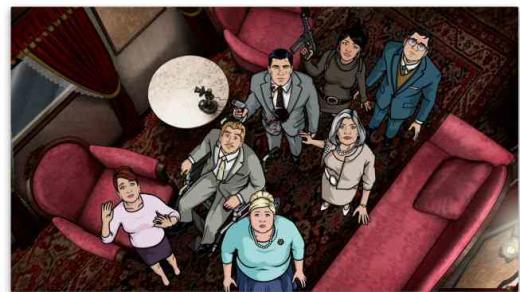 Don't worry, it was still loaded with obscure references to a once glamourous form of passenger travel. Just take the episode's name, "The Limited."
But unlike our fantastic voyage to the sky and one recurring joke about helium, this week featured a much more balanced set of humor, thanks to the more developed cast of season three characters, with a healthy dose of extra  and racist jingoist Canadian jokes throw in.
So, thank you, Cheryl and the Tunt family for bringing the rest of the ISIS squad aboard your trains.  'm sorry you didn't break the record to Ottawa, but hey, at least Archer save Babu.
Speaking of Babu, unlike Archer, I could never get angry at that little fox-eared guy. Even if his urinating problem was a little ridiculous, I'd gladly had given up a sleeping cart for the exotic awesome little guy.
Congrats to Lana for winning her first obscure reference of the week with Gomez and his obsession with blowing up trains. Other fun obscurities? Mr. Green Jeans and the Paul Newman/Patricia Neal vehicle, Hun.
You gotta love Malory and her insistence on joining the ISIS for any mission that could be construed as a vacation. Sure, it was in the vein of landing more missions from the Mounties, but we all know it was just to show up Trudy Beakman again.
But poor Cyril. After taking so many steps forward last week, he slid right back down the learning curve like a banana split.  Seriously, leaving the prisoner by himself!?  
While I'm loving my favorite accountant's pathetic growth into a field agent, I much preferred the cocky Cyril of last week.
Hopefully, everyone learned an important lesson this week: never get on top of a moving train. Not just because it's like getting shot in the eyes with a glitter gun, but because there's no point. You're still ON THE TRAIN. Thanks, Archer. Every week is a learning experience.
Overall, I thought it was a pretty solid half hour of comedy, but couldn't hold a candle to its previous two entries this season. Oh, and Lana? Lana! He remembers me!
Eric Hochberger is the programmer of TV Fanatic, so please forgive his mediocre writing. His programming is far better. Follow him on Twitter and/or email him. Just don't request threaded comments. They're coming.