Happy Endings Review: Nightmare on Dave Street
Leigh Raines at .
Ugh-mazing is the new ah-mah-zing on Happy Endings. "Cocktails & Dreams" taught us that even things that completely gross you out can provide for ah-mah-zing entertainment.
Despite Dave's crap ideas in the past (hello, boxer thong!) his latest venture into the speak easy business was actually a pretty big hit. Who doesn't love a little historical twist on the usual bar idea? However, his "whore's bath" drink? Not so much.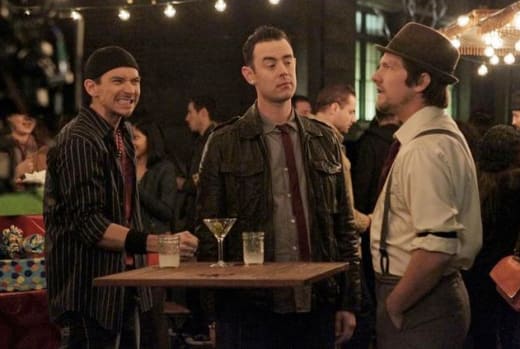 People say that oysters are an aphrodisiac, but it turns out that Dave's speciality cocktail was all it took to board the love train. Problem is, it left his group thoroughly freaked out. Just like Freddy Krueger, Dave was invading their dreams.
After that glimpse of Dave in the Freddy Krueger outfit, I'm going to be the one having nightmares tonight. Childhood fears never really die!!! So what was in "whore's bath" anyway? I'm sure more than a couple of bartenders would like the recipe for that. 
Too bad for Dave the bar got panned by a few critics and his idea crashed and burned. I have to say, though, nobody really pays attention to those what's in and what's out tallies in magazines. If it's fun, it's fun! Besides if it leaves you a little horned up, what what!
I hI was a wee bit disappointed in Colin Hanks' cameo. He wasn't all that funny, but I could totally picture Dave pissing himself over the attention from her. Also, props to the reference to Colin's 2002 movie Orange County. The movie is funny as Hell and I highly suggest anyone who didn't get the Shaun Brumder reference to go rent it immediately.
Happy Endings always throws in random but great references and this week was no exception. Brad has a sexual attraction to the mom on dinosaurs? Weird but hilarious. What a randomly old school awesome show that was. Varsity Blues is also a classic, though I'm sure most people who dream about that movie don't dream about Jon Voight being their coach. Whipped cream bikini is all I'm saying.
I loved seeing Max all neurotic and denial about being in love. But with every relationship, no matter how perfect the mate, there are obstacles. Grant doesn't want kids and Max probably does. This is a real issue and we got to see Max a little bit vulnerable, so much so that he had Penny lie to his friends about why he and Grant broke up. 
Things we learned this week? Don't drink your ex-boyfriend's special sex dream drink because real things can happen. A fritatta is like an omelette pizza. Lastly, never ever hide plates of food on your ceiling fan. What did you all think? Hit the comments and don't forget to check out favorite quotes!