"Romantic Languages" was the lost episode of Pan Am that let us in on a lot of little secrets heretofore unknown.
Looking back, it did seem like there was a jump in time, but I didn't realize how much the story was affected until watching tonight. It would have been nice if they had shown this episode in order because it felt like we were living a dream. That this happened to the the installment before what could very well be the series finale is a bit disappointing.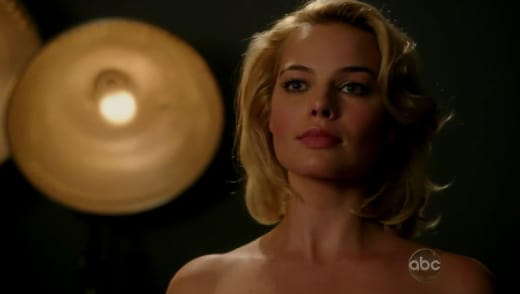 Example: So that's how Dean and Ginny ended things. He broke up with her thinking they were just having a good time. I thought she just walked into the sunset with Mr. Pan Am executive, but she was an absolutely crazy nut. She followed Dean around the world and even smashed her own forehead into a window to try to show him how much he meant to her.
She didn't deserve for us to think she somehow got the better of Dean. We also learned the effect of the phone call Maggie made to save her own tail when her job was threatened.
We also finally saw the genesis of Laura's nude photos. She was completely enthralled with work she saw of women with their faces hidden, and wanted to blaze a new trail. She trusted Graham and never imagined he would use them in a show. It was so cute seeing her move from hot chocolate directly to espresso in her desire to be more sophisticated. Even Kate tried to get her to try a latte first, to climb the ladder, so to speak.
It was the beginning of her journey to become a woman, but we missed it until now. She surprised even herself when she disrobed for Graham, but she did so with a smile on her face.
Collete's story was standalone and quite enthralling. She was in charge of a 12-year old boy flying alone and he kept her on her toes. He reminded me of Henry Spofford III from Gentlemen Prefer Blondes with Marilyn Monroe. She was always looking for the wealthiest man, and thought he would certainly fit the bill. Imagine her surprise when she found her own Charlie.
Collete's charge was smitten not only with her, but with magic, and used it to sneak a kiss. We really got to know a lot about Collete's demeanor through this exchange and I'm sorry we hadn't seen it sooner.
After all, he was a little psychopath. When he showed up at the side of her bed in her hotel room with a bouquet of flowers, it felt like the end of a horror movie. But Collete handled it beautifully. Charlie was on his own and she was able to feel for him in a way I don't think any other grown up had taken the time.
Finally, the flashback to the love between Kate and Nico left me longing for more. They had such a charismatic relationship and Kelli Garner in lingerie, well, how could you possibly go wrong with that? I guess it was ominous of what was to come because some jerk knocked her down to the sidewalk at a restaurant and told her to stay away from Nico. Although Frank said it was Nico's men, I'd have to watch it all again to be comfortable in that conclusion.
What about you? Do you wish they would have shown this episode in order? Have any ideas as to why they may have not? I'm stumped. I thought it was a lovely episode despite its misplacement, and I'm happy it made it to air.
Carissa Pavlica is the managing editor and a staff writer and critic for TV Fanatic. She's a member of the Critic's Choice Association, enjoys mentoring writers, conversing with cats, and passionately discussing the nuances of television and film with anyone who will listen. Follow her on Twitter and email her here at TV Fanatic.