"Too Much" was appropriately named, as a heckuva lot happened during an especially intense Private Practice episode.
This week's medical case focused on the baby of a recovering drug addict. It was a touching story, depicted well by both a remorseful parent and unforgiving daughter. Like always, Private Practice's professional arcs make it difficult to decide what the right solution is.
Luckily, Addie saved the day (as usual) and the doctors came to what seemed to be the best decision in giving the mother a second chance to be a mom to both of her children. Sometimes a second chance is all someone needs.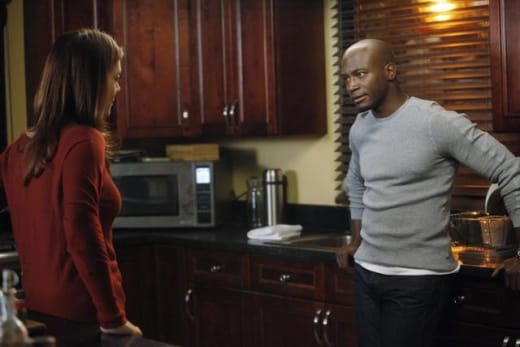 Meanwhile, bratty Mason didn't care too much for Charlotte's mac and cheese. Although it was understandable he was acting out simply because he couldn't be with his mom, I couldn't help but feel for Charlotte and wonder when she and Cooper would catch a break.
Plus, who seriously turns down mac and cheese and dumps it on the ground?!? It's only the best comfort food ever.
When Charlotte found Mason, she handled the situation perfectly well. Without getting incredibly upset and trying to stay calm, she was there for Mason when neither of his parents could be. I also thought that Charlotte was right in trying to convince Erica again that she must tell her son what's going on before it's too late.
Though heartbreaking, all of the scenes involving Erica's case got me thinking only one thing: I am so stoked about next week's crossover event with Grey's Anatomy. How about you?
There were a number of things I didn't care too much for throughout this installment, though.
First, I was definitely disappointed in Addison's choice to take a few steps back and land in Sam's bed. Seriously, what was she thinking? We've discussed this number of times before, but Sam has clearly stated he doesn't want to be a father and all she's ever wanted is to be a mother. These two things are never going to add up. Like Jake said, she should have kept her distance. Whether you're a fan of Jake's or not, you have to admit that he was right about that. Sam and Addie's hook up will only get in the way of what she has always wanted. Do you agree or do you think things could be different if they had another shot?
Another part I didn't care too much for was Sam's storyline concerning his sister. Maybe it'll take some time, but there was just so much more going on; this could have been told at a later point in time. Fortunately, Sheldon is helping to treat Sam's sibling and will be able to find out exactly what's going on with her.
Finally, I am rating this episode a 3.5 on the Violet Annoyance Scale (VAS). It's great that she's doing her own thing with Hot Scott and trying to be happy, but I thought Pete made a valid argument about how it wasn't cool that she was messing around at the workplace with Scott, knowing that Pete was there as well.
Sure, he's been a jerk and could have been an actual adult and told her how he really felt, but Violet should also have known to respect the sanctity of the workplace. Also, I laughed when she tried to analyze what Pete meant when he said he cared. These two need to stay on a permanent break. So as long as they continue to be great parents to Lucas, I much prefer them apart. One more thing: So, Scott's just a fling to her, but how would Scott feel if he knew this? If the roles were reversed, I'm thinking I'd see some varying responses.  
With numerous storylines intertwining involving our Seaside Wellness doctors, I felt like this installment was a bit subpar. It was decent, but in comparison to what we've seen all season long, it just fell short from being anything but stellar.
So, what are your thoughts, TV Fanatics? What did you think of "Too Much?" Hit the comments now!